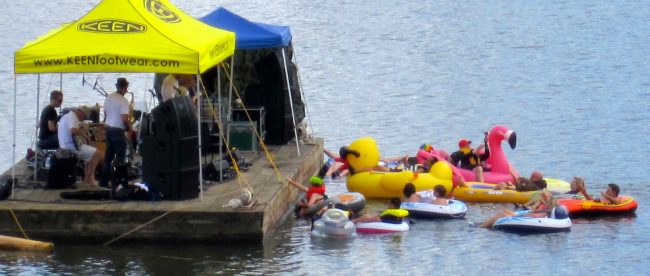 Traveling in summer is a national pastime, something to pursue with a vengeance while we still can. So we hit the road, determined to do so as simply as possible. First stop the Oregon Shakespeare Festival in Ashland, followed by a late-night drive to camp north of Medford: the death and deposition of Richard II followed by a green, tree-sheltered park by the Rogue River. Life in a state park campground is about as different from the monarchy as we can get. Good thing, too. After all the intrigue about who has to murder who to ascend the throne, we're happy to be among families setting up tents and arranging who sleeps where instead.
Carloads of kids on an outing scramble to put up shelters as rainclouds gather. Their one counselor is barely holding it all together, as the kids spill out over the lawns with Frisbees and baseballs. The air is balmy despite the overcast.
In the night the rain begins. We have to do nothing but pull our feet into the truck camper and close the back window. The sound of raindrops on a roof that hasn't been wet since February eases us to sleep. Just smelling the damp night air brings a contentment I haven't known in months.
In the morning we're on to Portland, my hometown. Actually, it's my birth city—I lived up the Columbia and don't remember downtown much. I do remember, though, our home near the river where I lived my first five years. Blackberry brambles. The big river through the trees. The neighborhood where I learned to play a toy trumpet in the summer and to ski in winter, when snow covered our hilly backyard.
We enjoy Portlandia food and drink, then find a highly recommended coffee vendor. The baristas are both award winning and serious about their craft, much too absorbed in their work to ask how our day is going so far. We finish our coffee under the watchful eye of a woman who is wary of my daughter's dog Sam, whose smile is so big I wonder if it hurts his face.
We wander along the Willamette, visiting Farmer's Market booths, finding The Big Float, a river celebration. A band plays music on a raft near the marina. A few motley boats have gathered at the edge of the raft; when it's time to refill the band's drinks, a solo canoeist paddles out, nudging the raft with a thump that we hear through the band's microphones.
Our trip continues to my hometown, where two lovely rows of big-leaf maples line the historic main street (called historic because it dates back to the 1950s, when I lived there). We camp farther up the Columbia River gorge, in the windy reaches so full of windsurfers and sailboarders that the single sailboat has to tack repeatedly to avoid hitting them.
After dark, the rain comes again. One of our camp neighbors has a set-up that is the antithesis of all the Winnebago motorhomes and Dodge Sprinter vans surrounding us—he pulls up in an old Toyota RAV4, reads at the picnic table while eating chips and drinking beer, and only after dark strings a hammock from two trees between our camps. In the morning he drives away before breakfast, by the looks of his clothing off to join a road crew or fight fire.
We travel back down through Oregon, not staying long anywhere. Just looking. We see strings of pelicans and Vs of ibises over wetlands. We choose National Forest camps and simple dinners. The sweet smell of Ponderosa pine pervades the warm air. Sometimes we open a bottle of local wine to go with hors d'oeuvres of crackers and hummus. Everywhere, it seems, is becoming the new wine country. Apples to merlot grapes. Peaches to sauvignon. Pears to chardonnay.
We're early to bed every night, up with the sun. It's like river days, this type of traveling. Just a few things are planned ahead of time—camp is where we find it. The water we use is the few gallons we carry.
When we arrive back home, I'm ready to head out again. But not before I calculate the mileage and tally up the carbon offset costs. We've gone carbon neutral, something long overdue but better now than never. We reduced our footprint with the solar we installed ten years ago, green building we designed and helped construct at that time, low-energy appliances we purchased. We opt for train travel when we can, dryer‑free laundry, and all the other low-impact advice, but there's more to be done. The best gift we can give the next generations is to reduce our contribution to climate change.
We can't pay back the cost of travel, but we can pay it forward. We can at least have a neutral impact. Immediate reductions (not consuming) contribute more than offsetting future use (buying offsets), but the latter is better than doing nothing. Way better. Way, way better.
Cost to offset driving 1,700 miles in our little truck: $14. Well worth the price.