Writer in Residence: Andi Cumbo-Floyd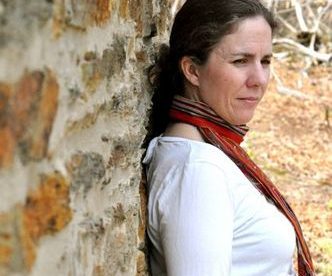 It's the great month of November. The pumpkins still hanging around from Hallowe'en are looking soft, like pie filling. The powers that be are messing with the time changes. No good can come of manipulating time, so in November we writers race against it. In November, or National Novel Writing Month (NaNoWriMo), writers all over America lay down words at impossibly fast rates and ask questions later. November is a time, as Andi Cumbo-Floyd writes in a recent blog post, when you can Let Your Words Wander Like Wild Bison, and Forget the Grammar.
In early 2016, Andi was kind enough to visit this blog as a Writer in Residence. She was about to release her book Steele Secrets, a young adult novel that explores her family's connection to slavery in America. She's deeply passionate about learning everything she can about the people who came before her on the Virginia landscape. To that end she's written book after book, including The Slaves Have Names: Ancestors of My Home, that dive into a time when people owned and were owned on the very soil Andi calls home.
Andi is a writer, editor, and farmer. She lives at the edge of the Blue Ridge Mountains with her husband, four dogs, four cats, six goats, and twenty-three chickens. She blogs about the writing and farming life (including tidbits about her goats) at andilit.com. Now she's launching a new book of go-to encouragement, Love Letters to Writers: Encouragement, Accountability, and Truth-Telling.
Andi's a great one for encouragement. (I'll have to wait to read the new book to sample her accountability and truth-telling.) I know that she'll give you a lift, because her words and heart are deep and generous and loving. One restless night when I was living far from home, I rose to read emails and messages from friends—something I do when I can't sleep. Instead I found myself poring through Andi's posts on facebook. Her work moved me from anxiety to a feeling of peace. I don't know how she does it. I only know that she does.
So consider looking in to Andi and her new book, launching in a few days. You can purchase it already on preorder. And to sample her generous spirit, read her answers to the Writer in Residence questions below.
What are you writing now?
 At present, I'm finishing up final touches on my new book Love Letters To Writers: Encouragement, Accountability, and Truth-Telling, which will be out on November 14th.  It's a collection of 52 letters that I've written to writers over the past two years. My hope is that helps others feel less alone and supported in their writing journeys.
I'm also finishing up revisions on a book called Plantation Jesus: Race, Faith, and a New Way Forward, which I've co-written with Rick Wilson and Skot Welch. It will be out in May 2018.
What are you reading now?
So many good things.  Last week, I finished The Shadowed Sun by N.K. Jemisin. Her ability to create worlds and characters that are rich and complex is remarkable. I always love her books because they force me to look at our world with fresh, more compassionate eyes.
I also am reading Jane Steele by Lyndsey Faye, which is a fun story with a Jane-Eyre-like heroine who is also a serial killer. It's dark but also wise and gripping.
Finally, I'm finishing Michelle Alexander's brilliant, challenging book The New Jim Crow: Mass Incarceration in the Age of Colorblindness. Alexander's well-reasoned and well-supported argument is forcing me to understand our justice system in a new, hard way, and my own ideas about criminality and responsibility are shifting into a more compassionate stance, which is always a good thing.
Name three books that have inspired your life and work.
Bird by Bird by Anne Lamott entered my life when I was just beginning to think I could be a writer. Her humor, her honesty, her refusal to be prim – they all encouraged me to be myself on the page, even more than I am in the air, and it was powerful.
Slaves in the Family by Edward Ball is a book I return to again and again as a model of the kind of transparency, accountability, and work involved in telling the stories of enslavement – either from the perspective of enslavers (as Ball's work does) or from the perspective of those who were enslaved (as my work typically does).
Paradise by Toni Morrison is a book I studied in school, and I didn't really get it then – this story of a group of women who live in community, who find their own faith in each other and the world beyond.
Describe your writing practice.
Lately, my practice has shifted a bit as I'm so heavily in the editing phase of things.  It used to be that I worked on my work/s in progress in the morning, but now I find that I want to get the "must haves" of the day done so that I can write/edit/research unencumbered in the afternoon.  So typically, I manage email, send notes to clients, edit client manuscripts in the morning, and then in the afternoon, I dive into revisions or new writing, or I give myself over to genealogical and historical research for a couple of hours.  I don't know that I'll keep this pattern always, but right now, it's productive for me and makes the best use of my energy.
Tell us about a place that's critical to your writing. (A place in which you write, a place from which you write, or both.)
Here on our farm, we have turned what used to be the summer kitchen into an office for me, and while I don't always work there – today, I'm on the couch in the farmhouse with the two hound dogs – it's a space dedicated to just my writing. It's decorated with my favorite things – quilts my mom made and crutches we found in the crawlspace above it, paintings I love and notes from my husband – and it's laid out just the way I love most – a little haphazard but with everything where I want it.  It's a sacred space for me and my words.