Writer in Residence: Andi Cumbo-Floyd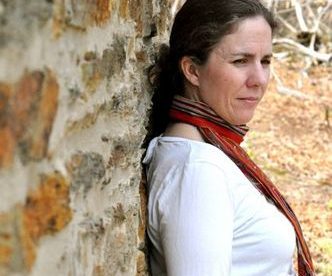 Today, as we remember Martin Luther King, Jr., it's an appropriate time to feature Andi Cumbo-Floyd as this month's Writer in Residence.
Andi is a writer, editor, and farmer who lives at the edge of the Blue Ridge Mountains with her husband, four dogs, four cats, six goats, and twenty-three chickens. Andi blogs about the writing and farming life (as well as her goats) at andilit.com. She's also the author of The Slaves Have Names, a book that personalizes her connection to slavery in America. Her new book Steele Secrets, a young adult novel, comes out February 9, 2016, and takes on the same subject.
One restless night last year when I was living far from home, I rose to read emails and messages from friends—something I do when I can't sleep—but instead found myself reading through Andi's posts on facebook. Her work moved me from anxiety to a feeling of peace. I don't know how she does it. I only know that she does.
If you haven't encountered Andi's work yet, you're in for an insightful journey into social justice in America. She writes with heart and from her own original research. She provides deep comprehension about subjects most of us could stand to understand more fully. I'm always moved by the breadth of her empathy.
I had the honor of reading an advance copy of Andi's new Steele Secrets over the last few days. I was glad I did. Although I read slave narratives in graduate school, accounts that I found terrifying and brutal, they failed to bring the cruelty of slavery close to home. I've also studied the writing of famous slaveowners like Thomas Jefferson and Meriwether Lewis, and I've reacted to the dichotomy inherent in the fact that otherwise intelligent men showed no qualms in exerting dominion over other human beings. Before reading Steele Secrets, however, I didn't understand how our collective mercilessness still affects us as a nation.
All this may sound naïve, and maybe it is, but I chalk it up to the power of storytelling. In Steele Secrets, Andi has spun a narrative with characters we care for—and what happens to them matters. That's always been the best way into a social question, from my perspective, to relate to it on a personal level. Andi's story helps us do that.
I didn't see the twists the book would take even after reading so much Andi has written, which I consider a testimony to the good timing and excellent sense of withholding she shows in Steele Secrets.
I came to root for 15-year-old Mary Steele and her new friends—some of whom she knows from the Great Beyond even as the book opens. Their cause to preserve a sense of history in their community makes perfect sense. Mary's courage—and Andi's—will stay with you long after the last page of this book.
What are you writing now?
I just finished a young adult novel called Steele Secrets, which is about a 15-year-old girl named Mary who finds herself mysteriously in an abandoned cemetery. While she's there, she meets the ghost of a slave, and together they begin a journey into history and racism, a journey that isn't always safe for Mary and her family.
What are you reading now?
Tonight, I will read the final pages of Uprooted by Naomi Novik — it's really fun and has great characters. I'm also reading Chimamanda Ngozi Adichie's Americanah — it's powerful and also really funny. Finally, I've just begun Mary Karr's The Art of Memoir. 
Name three books that have inspired your life and work.
The Cloister Walk by Kathleen Norris taught me that I could write nonfiction artfully and with deep resonance.
Head Off and Split by Nikki Finney reminded me of the power of words to incite emotion and elicit change.
The Lion, The Witch, and the Wardrobe by C.S. Lewis was the book that helped me keep believing in magic, both on the page and off.
Describe your writing practice.
I often begin what I try to make a daily writing practice with reading a poem or two. Then, I take a line from that poem and copy it into my journal, letting it lead me into more words. I write by hand until I feel the energy pick up, and then I move to the computer. On good days, I write 1,000 words, following the wisdom of my friend Shawn Smucker, and I try to read a lot. 🙂
Tell us about a place that's critical to your writing. (A place in which you write, a place from which you write, or both.)
The place I think of as home is the farm on which I grew up, the plantation where the people I wrote about in The Slaves Have Names were enslaved. There, I find energy and respite . . . it's a sanctuary for me, and when the words are hard-coming, I let my mind return there.