Writer in Residence: Christa Sadler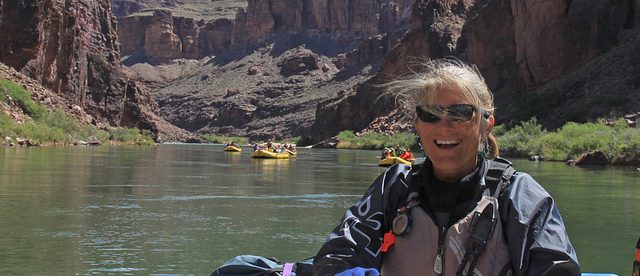 Meet Christa Sadler, author, educator, Grand Canyon guide, Alaska river guide, backpacking guide, and editor/book publisher par excellence. She's worked on the Colorado River in the Grand Canyon more than half her life, and she's not planning to stop any time soon. Christa's the editor of a book that goes along with just about every trip that puts on the Colorado–There's this River: Grand Canyon Boatman Stories. Anyone who has read even part of There's this River has been shown the guiding and river culture up close and personal.
Christa has been at work on a book about the ancient life of a little-known region of the Colorado Plateau, Where Dinosaurs Roamed: Lost Worlds of Utah's Grand Staircase. It's due out in November, and Christa is taking time to recover from the hard work of bringing a big project in for a landing. I'm looking forward to reading this skilled and knowledgeable writer's take on the landscape and creatures of 70 million years ago! Christa kindly answered the five Writer-in-Residence questions with her customary modesty and conscientiousness. Enjoy getting to know her a bit!
1. What are you writing now?
Well, I'm not doing anything now, since this last book kind of beat me up a bit, it happened so fast and took all of my energy and time for a year. But I'm supposed to be working on (and I will start soon!) finishing the accompanying book for a film about the Colorado River. The Colorado is an art documentary that combines original music and lyrics to look at the Colorado in ten different "episodes." These focus on the human relationship with the river, from source to sea. The filmmaker wants the film to be used in schools as a teaching tool, and I am writing the textbook to go with it. I have completed the first draft of about two-thirds of it, but had to stop to get the dinosaur book done. It's an interesting project, and I'm enjoying it because I am able to go into far more detail than the film, which is only 90 minutes long. I've already learned a huge amount and I look forward to starting up again, but for the next few weeks, I'm still taking a break from sitting at my computer and writing all day!
2. What are you reading now?
Right now I am finishing up a book called The Necessity of Empty Places, by Paul Gruchow. It was sent to me by a friend I took down the Noatak River in Alaska this summer, and I'm enjoying it immensely. I have a huge need for empty places in my life, and the book is making me want to sell my house, buy a Sprinter van, and just travel around the country for the rest of my days. I probably won't do that any time soon, though. After this book, the next one on my pile is Chasing Dichos through Chimayo, by my friend Don Usner. It's about the Spanish sayings that pepper life and language in the small towns in northern New Mexico.
3. Name three books that have inspired your life and work.
That's a tough one. Only three? Not sure I can do that. How about three authors? I'd say anything by John McPhee, especially his geology-focused books. He is a master of translating geology and Earth processes for the layperson and making them interesting, relevant, and personal. Wallace Stegner is another author who writes about the landscape in a way that makes me want to get out on it. He's a classic, and it may be clichéd to mention him, but his "Coda: A Wilderness Letter"  is one of the most beautiful pieces of writing that I've ever read. It sits in the back of my mind always, reminding me that the wild places I love so much are important simply because they exist, not necessarily because of what we can obtain, or learn, or experience, from them. I think the final author would be my friend William deBuys. I am forever amazed at how he can pack so much eloquence and humor into his writing. His book A Great Aridness, about climate change in the American Southwest, is a masterpiece that somehow manages to balance reality and optimism in one incredibly readable package. He is one of those writers whose phraseology makes me think, "I wish I could have said that!" I feel very fortunate to be able to call him a friend, and more fortunate still that his writing is out there for all of us to enjoy.
4. Describe your writing practice.
Oh dear. I'm afraid I'm not very good at that part. I work best under a deadline, and I will literally sit for hours and work at my computer without looking up, as opposed the the healthier "I work a little bit every day and go for walks and stretch and do healthy things for myself" kind of practice. I will say that my house is very clean when I have a big deadline! I'll get up when I need a quick break and put the laundry in, or wash the dishes, or clean the cat boxes, etc. But I have never been one of those people who takes notes just for the heck of it and then hopes they'll turn into something, like my friend and extraordinary writer Scott Thybony. And I don't do the "morning pages" that people talk about, where they just write to get thoughts out, no matter what it's about. I write because I have a purpose; because I have something about which I have been asked to write.
When I have something I am writing, I do take copious notes, and write down or dictate ideas for phrasing on my phone when I'm driving and something hits me. I like to interview people for my books, rather than simply read their research (in the case of a book on paleontology, for instance). Whenever possible, I try to put a personal voice, mine or someone else's, in my geology and paleontology writing. Those are such dense and obtuse subjects for the non-scientist that I feel it really helps people understand and make it more "relatable."
5. Tell us about a place that's critical to your writing. (A place in which you write, a place from which you write, or both.)
Well, ironically, I have this beautiful house near Flagstaff, on the edge of the forest, with an extra bedroom that is my office, and I wrote this entire book at my dining room table! My office is wonderful. It's open and light, with a window that look out to the San Francisco Peaks (and one that looks into the sunroom of the house), but I got the bet work done at my dining room table, and I'm not sure why. I like to have some noise while I work. Sometimes I work well at coffee shops where there is a hubbub around me, but nothing I can focus on. If there is music, it can't be anything I could sing with, or I'll be completely distracted! In all honesty, I can work in almost any place, but what helps me the most, and what helped me the most on this last book, was having a kitty who likes to sit on my lap. My little buddy Miga spent the entire book on my lap (I've attached a picture), and it was really comforting and warm and delightful. Unfortunately, Miga disappeared not long after the book was done, most likely the victim of a coyote, so I'll have to find another writing buddy for the next book!
I will say that one place that has been critical to my writing in a different way is the Grand Canyon. I have spent more than half my life there as a river guide, backpacking guide, and educator, and it inspires me like no other place in the world. Any time I am given an assignment to write about the Grand Canyon, I can sit and write with no trouble, and the essay or article will be done within hours. And it will be good! I was asked to write an essay for an issue of the journal Site/Lines (of the Foundation for Landscape Studies ). The subject was Landscapes of Stone, and I wrote an article that literally flowed out of me about the Grand Canyon as a home, about the pieces that make it a home when you are there. I wrote it in a couple of hours and it required very little editing. That's what happens when I write about the Canyon. I wish it happened with everything I write!