Writer in Residence: Ransom Stephens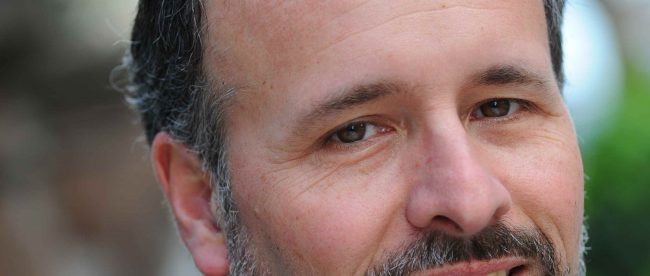 With so much talk lately of voting (or not voting) with usually hidden and unlikely body parts, it's a good time to revisit the idea that our brains are certainly involved in making our voices heard. It's also a good time to talk to physicist and author Ransom Stephens, PhD, whose latest book, The Left Brain Speaks The Right Brain Laughs: A Look at the Neuroscience of Innovation and Creativity in Science and Art  (Viva Editions) comes at a perfect time in the national conversation. Affectionately nicknamed LBSRBL, this much-anticipated book is scheduled for release tomorrow, November 8, 2016.
Talk about timely. Check out this quote from Ransom: "Like democracy or a long-lasting marriage, the key to success isn't which party contributes more, it's how they interact."
Although Ransom didn't make that statement in regard to the current election, it certainly could apply; it's about the impact of environment on our lives. "The nature-nurture question isn't, 'Does nature or nurture play a greater role in determining a person's talents?' The question is: 'Does the environment in which a person is nurtured make the most of the genetic nature of that person?'" Framing an old debate anew is a refreshing thing; I agree with Ransom when he says, I love this stuff.
LBSRBL delves into the science behind our different perceptions of the world. "Why is it that two people who experience the same event have such different versions of what took place?" That's another timely question, and Ransom takes it on with wit and expertise.
A friend of mine has been reading everything he can get his hands on about why we choose the candidates we do. That a book on neuroscience, life and death, art and science, and two halves of an important organ should be next on my friend's reading list probably hasn't occurred to him yet.
But it should. With our divisive national conversation in the fore, Ransom's LBSRBL will clear up some of the mysteries of our grand split in perception. as well as many more, in this "novel, irreverent deconstruction of what makes us tick."
Ransom's answers to the five Writer in Residence questions are unique and, yes, creative!
1. What are you writing now?
Too Rich to Die is a novel that's sort of like a modern Christmas Carol. Ethan Scratch is a 30 year-old San Francisco techie, and the world's first trillionaire. Ethan's greed has ruined his life and just might ruin the world if my intrepid time-weaving trio, Simon, Fiona, and Volodya, can't rescue him from himself. Ranging from San Francisco to Paris, Mexico, India, and Vienna, Too Rich to Die melds themes of Silicon Valley wealth, the French Revolution, and developing-world sweatshops into a fast-paced story of love and greed .
It's the second in a series I'm working on. The prequel, The 99% Solution, is being read by a dozen or so publishers in New York City even as I type.
2. What are you reading now?
I just finished Tamim Ansary's second memoir, Road Trips: Becoming an American in the Vapor Trail of the Sixties. Whenever I read Tamim's work, I feel like I'm sitting around a campfire. His writing is so genuine and honest. I love that guy.
I just started Anne Perry's The Sheen on the Silk, which is set in 13th century Constantinople. I've been binging on Anne Perry's historical fiction mysteries. I cranked through her five-volume World War I murder mysteries and just started this one. Last February, I was on a panel with her at the San Francisco Writers Conference talking about how to use Point of View to convey character, plot, mood, and so forth. We had a good time together and made complementary points, so I grabbed one of her books. She's got a special knack for story telling and makes it feel so easy. I love this stuff.
On the nonfiction side, I'm reading my new book The Left Brain Speaks The Right Brain Laughs—you'd think I'd seen enough of this book, right? Well it took the publisher 14 months to release it, so I haven't looked at it in a long time and I'm about to start promoting it. I'm really psyched, too! I think the editors and I did something special. It's better than I thought I could do. The keys to creativity, problem solving, abstraction, value, and more–it's all here and it's hilarious. Yes, I crack myself up. I hope I crack you up too.
3. Name three books that have inspired your life and work.
PS Your Cat is Dead, by James Kirkwood. What a book for a 12 year old! Hilarious and awesome and way out there. Still!
Never Cry Wolf, by Farley Mowat, again when I was kid—though I've read it many times since then. I've always had dogs, and Mowat's hilarious, authentic naturalism opened my eyes to the notion that adults didn't have a much better grasp of reality than the kids.
High Fidelity by Nick Hornby and A Heartbreaking Work of Staggering Genius by Dave Eggers convinced me that I could write books that people would want to read. Sitting in the Denver airport during a whiteout, I read these two books cover to cover one after the other. Sitting alone in an airport terminal, hungry, but satiated with the stories, I decided that someday I'd go for it. Five years later, I did.
I have to add The Feynman Lectures on Physics because they inspire everything I do, one way or another.
4. Describe your writing practice.
I write first think in the work day. I'd say, "in the morning" but since I've been self-employed my work day has migrated to 9 to 10 hours that begin whenever I start, which is often noon.
If I'm drafting new material, I write 1,500+ words or for 3 hours. I've made it my highest priority. If I'm really cruising I keep going, if I can't squeeze out 700 words of crap in three hours, I move on to the next thing. But every day in the same place. When I'm editing/revising it's more a 3-hour-per-day practice, depending.
5. Tell us about a place that's critical to your writing. (A place in which you write, a place from which you write, or both.)
I have this big black leather chair in my lab/studio/office/underground lair where I write. I disabled the network interface controller on the laptop I use for writing so that I can't access the interwebs. I love that seat and that beat up old laptop!
I have a big roll of butcher paper that I use for outlining and brainstorming. I tear off an 8 foot by 3 foot sheet of paper and put it on a table the same size and sketch out plots and characters. I've got about 50 rolled up sheets in the corner of my office that I can't seem to throw away even though those plots have all become manuscripts by now!
Great big workspaces make a big difference. I have a big white board too. Highly recommended!
---
Author and physicist Ransom Stephens, PhD, is the author of hundreds of articles and four books. He's hard at work on a series of novels, including The 99% Solution (in circulation to publishers) and Too Rich to Die (in progress). He presents all over the world on subjects ranging from physics to neuroscience to writing to humor. Check him out at www.ransomstephens.com.