Writer in Residence: C.M. Barrett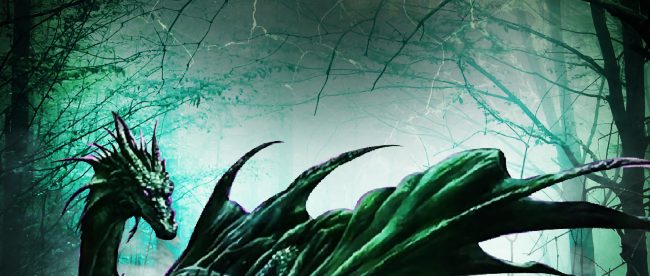 Do you love a good story set in fantastic lands and populated with dragons (who doesn't)? C.M. Barrett's The Dragon Who Didn't Fly is Book One in a series with the tantalizing name A Dragon's Guide to Destiny. In this first book, a water dragon named Druid can only save his swamp from destruction if he breaks through some critical barriers to getting along with humans: issues with communication and mutual distrust.
Barrett, who writes nonfiction as well as literary and fantasy fiction, explains the Dragon's Guide series.
The Dragon Who Didn't Fly, originally Big Dragons Don't Cry, is eco-fiction. In it, humans threaten the continued existence of a swamp and its peaceful inhabitants. The humans' belief that they're superior to the natural world leads them to make very bad choices about ecosystems and the planet. If the animals are to save their world, they and their leader (the very confused dragon Druid) must convince humans that living in peace with the environment and other species means survival for all.
In this excerpt from The Dragon Who Didn't Fly, a young squirrel describes the problem to Druid.
"It's not just the humans, not even just the swamp. Remember how you taught us to hear and feel the earth's rhythm? It's disturbed now."

Druid lifted the squirrel from his shoulder and held her in his paws so she faced him. "Tell me what's wrong with the rhythm."

The squirrel's nose quivered. "I'm not sure. It doesn't seem to be coming from the ground. It's a feeling from far away, the trembling of wounded animals, but none I've ever known, cries that shiver through me. It's the sound of hearts that have forgotten how to feel."
Going deeper into the hearts of these humans, Barrett has written a series prequel, The Snake Charmer's Daughter, about a conquered nation in which Zena, an apprentice snake charmer and mind master, becomes a slave in the Emperor's harem. A sadist runs the harem, and the Emperor is a temperamental drug addict.
Determined to escape (who can blame her?), Zena resists those who urge her to start a slave revolt. Heroes have short lives and violent deaths. Soon, though, she learns the power of friendship and love and can no longer turn her back on the suffering of others. As life in the harem becomes increasingly perilous, Zena begins to wonder if her only hope of survival is to lead a rebellion.
Here's an excerpt from The Snake Charmer's Daughter, a book told in the brave Zena's voice (download the book free from BookFunnel).
"You never told me about that dragon," D'zara said.

"Because it meant nothing," I had told her, expecting her to laugh at the ludicrousness of it. I didn't like the thoughtful expression on her face.

"Maybe we're planning too small."

"D'zara, we don't even have a small plan. The more I look around, the more difficult it seems. Have you noticed the height of the walls or counted the number of guards?"

"Listen to yourself. You're saying you'll never able to do it. I know that we aren't people who put much value in faith. Look at it another way. Here, in this moment, you don't know how to lead people out of here, and maybe you're not going to do it, but what if it's the best way to escape?"

"It isn't. Rebellions tend to get noticed. People tend to get killed."

The passing days hadn't eased my awareness that I had lost my freedom, and, although I tried not to think too much about my family, they cried in my dreams. Did that mean they'd died, or were they slaves, perhaps even here in this filthy city?
Barrett graciously agreed to answer the five Writer in Residence questions. Her answers follow.
What are you writing now?
I am working on a post-apocalyptic/dystopian series. In the wake of a famine and plagues, an evangelical megachurch, the Church of the Redeemers, has, with Big Business's cooperation, abolished Congress and replaced it with a powerless monarchy. Sexual deviants, intellectuals, and other degenerates who resist its paralyzing morality are confined in urban areas called Zones to prevent their contamination of the righteous. Redeemer Justice, who has an irresistible love for "Godless" nature, is sent to the Manhattan Zone to recruit for the Redeemers. Instead, she learns to love the drag queens and other "deviants." Joining the Community Church choir unlocks the power of her voice, and the world of nature she found as a child sings to her, urging her to help save the people and place that have given her new life. If the Redeemers learn her true feelings, she'll discover something worse than hell—and the Zones and their supporters may be doomed.
One of my purposes in writing this series is to show the connection I see between contempt for nature and contempt for those who violate rigid standards.
What are you reading now?
My most recent reading has included We Are All Completely Beside Ourselves, by Karen Joy Fowler, about a girl raised from infancy with a chimpanzee of the same age. This book powerfully explores our assumptions about and cruelty towards non-human animals; Wild Roots, by Donna Mulvenna, a memoir of her awakening in the wildness of French Guyana (read Donna's Writer in Residence post here); and The Nature of Personal Reality, by Jane Roberts, a long-time favorite that I've read many times and which has always challenged my assumptions about reality.
Name three books that have inspired your life and work.
When I was eight years old, I read The Abandoned, by Paul Gallico, about a young boy who turns into a cat. That story's effect on me is why so many cats star in my A Dragon's Guide to Destiny series. The Nature of Personal Reality, described above, has bent my mind into some interesting shapes. Reading East of Eden, by John Steinbeck, first taught me the beauty of language.
And I must add to this list the poetry of W. B. Yeats!
Describe your writing practice.
It varies a lot. When I'm first writing a book, I will spend several hours a day on it. After that, I may be editing one book, proofreading another, and also either learning about or practicing promotion, which also includes a lot of writing.
Tell us about a place that's critical to your writing. (A place in which you write, a place from which you write, or both.)
For over 20 years, I basically lived in the woods, in the Catskill Mountains of New York state. Deer, wild turkeys, bear, skunks, coyotes, snakes, and other animals made themselves at home in my backyard. That place was a wonderful nature school; a lot of what I learned there found its way into my books.
_________________________________
Bio: C. M. Barrett lives in western Massachusetts. She has worked not only sorting eggs, emptying bedpans, setting type, but also as the owner of a crystals store in Manhattan's Greenwich Village, as a Reiki master, and as a consultant for pet behavioral issues. Currently, she is a writer, editor, and a full-time animal lover. Two black cats run her life.