Writer in Residence: Donna Mulvenna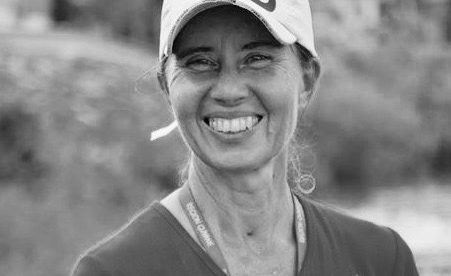 Meet Australian Donna Mulvenna, who left behind decades of corporate writing to begin writing about nature, health, passion, love, and living simply and sustainably — in essence, her code for living a good life. In her work, she also offers a glimpse of the true wonder of the Amazon, to reveal its profound effect on her and others she's seen, and to inspire readers to build a connection with the natural world.
Near the beginning of her nonfiction book Wild Roots: Coming Alive in the French Amazon (2017, Stormbird Press), Donna tells how her new love, Franck, described and lured her to a small Caribbean country in the Amazon jungle. He simply invited her on an adventure to a part of France, and she accepted.
Who wouldn't jump at the chance to visit vineyards, chateaux, and Paris?

It wasn't until Franck set the departure date that I asked, "Where exactly in France is it?"

As a planning type, I usually have a destination researched half to death before I visit, but facts were scarce for French Guiana. I visited the local book retailer, but the lady behind the counter, who looked like she'd tut over any public display of affection, said, "They don't make guidebooks for places nobody goes" . . .

For certain, it's a confusing place. It's part of the Caribbean but not an island. It sits within the Amazon but isn't classified as South American. The second smallest territory on the South American continent, it's as much a part of the European Union as Brussels is, and it's the richest.

Even friends who had traveled throughout South America scratched their heads when I pointed it out on the map.

"Oh, I'd forgotten that little country," said one.

"It isn't a real country anyhow," said another.

How did an entire country escape their notice?
It may not make much sense to people who are not her kind of wild, but Donna refuses to own a mobile phone, rarely wears shoes, and is passionate about living on a whole food, plant-based diet. If she can't be found swinging in a hammock with a laptop in hand or somewhere off the coast reading from her sea kayak, you will find her hurtling along the great Amazonian rivers in a sprint canoe.
"Happiness does find us," she says. "We just have to slow down and lighten our load a little. Only then can we discover the wonder and awe in our world, and in the process gain a true sense of who we are, why we are here, and where we are heading."
Donna sent answers to the five Writer-in-Residence questions this week despite her remote location and a spotty internet connection that often goes down during the rainy season.
What are you writing now?
I'm working on two books. The first is Red Diamond, a nonfiction work that looks at the different ways in which nature is guiding us home. The second book is in collaboration with Dr. Margi Prideaux, Shock and Awe: The Global Assault on Wildlife and Where to Find Hope. Margi writes about urgent high-profile wildlife issues and uncovers the shock of what is happening. I write about the awe of living in a wild place and how that offers hope. It's a book that shows both sides of a collective story, something we hope will inspire people to keep fighting.
What are you reading now?
Annie Dilliard's Pilgrim at Tinker Creek. In it she describes sitting on a curb and looking at a mountain. There she felt a oneness with nature until she became self-conscious—looked at herself looking at nature—and the moment was lost.
I've felt the same way and I enjoy reading other people's interpretation of the experience.
Name three books that have inspired your life and work.
As a child, I was drawn to anthropomorphic fictional characters like Dorothy Wall's Blinky Bill. I also adored the gumnut babies in May Gibbs' Snugglepot and Cuddlepie. Children's stories like these encouraged me to spend more time outdoors exploring nature.
Now I mostly read stories of people escaping modern life. I'm fascinated with people who travel the world, live in the wilderness, or partake in some crazy scheme to help save the planet. I find it inspiring to learn what drove them there. Why? Where? For how long? What were the physical, psychological and interpersonal challenges?
But you asked for three only, so I'm going with: Animals First: The Story of Pioneer Australian Conservationist & Zoologist Dr David Fleay by Rosemary Fleay-Thompson. Because of Fleay's dedication to native fauna and flora, I'm more aware of the uniqueness and value of the Australian bush and its wildlife.
Equal second Diet for a New America by John Robbins and Silent Sprint by Rachel Carson. Both these books changed the way I lived, overnight.
And finally, Rowing the Atlantic: Lessons Learned on the Open Ocean by Roz Savage. She inspired me to take risks and taught me about enduring hardship.
Describe your writing practice.
Wake up. Yoga. Inspired writing.
It's completely normal for my partner to hear me say, "I spent so much time writing and nature watching today I didn't do anything else."
I've never suffered from writer's block. I have the opposite problem where I write too much and then have to cull during an edit. A couple of years ago, I could have happily squirreled myself away in a sterile office and written for up to 16 hours a day. Now, I'm too easily distracted by wildlife—animals emerging from the shadows to defend their territory, searching for love, or hunting for food—that I have to discipline myself to write.
Being able to sit still in nature to really observe what is going on is a new experience for me—it never gets tiring.
Tell us about a place that's critical to your writing. (A place in which you write, a place from which you write, or both.)
My treetop office is an open-air platform that overlooks the Matoury Nature Reserve on the Atlantic coastal fringe of the Amazon rainforest.
Occasionally, I hear a dog bark or the sound of a brush cutter but most times it's just the breeze wafting through the canopy, raucous birdsong, or a horde of branch-bending monkeys come to eat my papayas. This day, it's an amorous green iguana who is doing a lot of head-bobbing.
I rush to my office with the same sense of urgency others might reach for a morning cup of coffee. I'm hooked—especially on the sound of cascading water in the nearby stream.
I could write an entire book about the joys of working in a place like this, where every written word feels inspired.
____________________________________________
Donna Mulvenna is a horticulturist and writer who lives on the fringe of the Amazon forest in French Guiana.