Writer in Residence: Margi Prideaux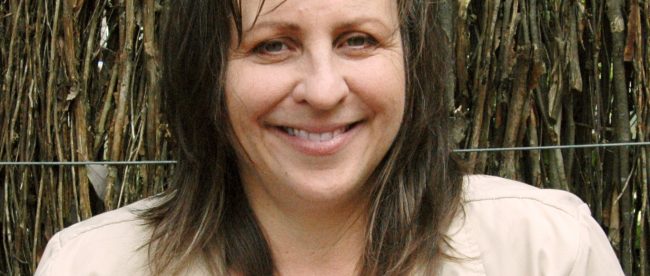 "On a rare perfect day," says Australian author and scientist Margi Prideaux, "I write for a three or four hours each morning, take a break, and then edit what I've written the day before, or research what is needed the next day." What is needed for Margi's work is to bring to light stories about wild lives and wild places. Hope, courage, and knowledge are all parts of Margi's message.
I met Margi Prideaux just last month through a writer's network; she's one of those hardworking writers and researchers who inspire me to get up just a little earlier each day to write on behalf of the planet. Margi holds a PhD in wildlife policy and law; her life's mission is to love and protect the wild lives with whom we share our world.
Earlier this month Margi emailed her followers an analysis of expected impacts to world wildlife due to the recent U.S. withdrawal from the Paris climate accord. She referred to the Doomsday Clock, which recently added the threat of climate to its already decades‑long tracking of nuclear threat to human survival. In her analysis, informed by years of policy work, she wrote of the global tolls to wild species that will be seen without immediate, rigorous climate action.
It's not as if the clock isn't at three minutes to midnight. The current rate of species extinction is already one thousand times the expected rate if humans were not a factor. The dawn of the next century will grieve the loss of icons–gorillas, polar bears, lions, tuna, sandpipers and warblers—along with thousands of lesser-known species that will be gone as well. It is a sad irony that extinction rates will be greatest where the power of people is the least: Latin America, Africa, Oceania. These are the same regions the Trump administration is concerned might "benefit" from the Paris deal.
Margi is not only a terrific intellect but also a champion of her fellow eco authors. She organizes promotions of ecofiction and nonfiction. Download her most recent publication (Birdsong after the Storm) in the current 20 Authors giveaway and you'll be signed up for news of her engaging writing, her stable of author friends, and stories of those who are working for hope.
Now to the five Writer-in-Residence questions.
What are you writing now?
I am partway through two projects. The first book, Wild Tapestry: Weaving Wildlife Survival, is investigating the power of community conservation in the developing world and the international forces that are undermining these efforts. I am writing of the terrible risks activists take and the wild and wonderful solutions they propose. The second book is in collaboration with my friend Donna Mulvenna, Shock and Awe: The Global Assault on Wildlife and Where to find Hope. We are looking at twenty or so high-profile wildlife issues, uncovering the shock of what is happening, and the awe that inspires people to keep fighting. I also have some conference papers to prepare, but they are nowhere near as interesting!
What are you reading now?
When I need to relax and turn off from the pain of the world, I read science fiction. Right now, that book is The Long Way to a Small Angry Planet, by Becky Chambers. In my serious moments, I am reading Four Futures: Life After Capitalism, by Peter Frase, an excellent book that beautifully describes four different political directions the world is heading. I am about to open Disaster Capitalism: Making a Killing Out of Catastrophe, by Anthony Loewenstein, about mutated economics and corrupt politics behind so many of the world's tragic human events.
Name three books that have inspired your life and work.
When I was four, I was given a beautiful little book called A Home in a Tree, by Dora Castley, Kathleen Fowler, and Sheila Carstairs. I still have it on my desk. It's a small, delicately illustrated book, but it seared the message of wildlife needing habitat into my young activist's mind. Many decades later, Earth in the Balance: Forging a New Common Purpose, by Al Gore came along at a moment of indecision for me. I recall reading it in one afternoon, without a break, my mind tumbling with a series of associated ideas. It shaped my activism direction. Predatory Globalization: A Critique, by Richard Falk, was another profound book that molded my direction around this time.
Describe your writing practice.
On a rare perfect day, I write for a three or four hours each morning, take a break, and then edit what I've written the day before, or research what is needed for the next day. I write nonfiction (literary journalism), so there is lots of research involved. Thankfully, most of what I need is online now. It was much harder a few decades ago.
Tell us about a place that's critical to your writing. (A place in which you write, a place from which you write, or both.)
I live on a farm, enveloped by wilderness, on an island. My small, comfortable office surrounds me with books, and I look out on wildlife every day. There are hundreds of birds, from parrots to small fairy wrens all living their wonderful lives, in full view. Some mornings a koala comes down from a large eucalyptus near our house, and she ambles across the lawn outside my window. At dusk, there are kangaroos on the ridge. I hear birdsong and the music of the wind all day long. This place is my soul and my inspiration.
Bio
Margi Prideaux is a writer, negotiator, and independent academic, with a PhD in wildlife policy and law. Over the past twenty-seven years, she has worked within the conservation movement on international negotiations, as well as conservation projects in the Pacific Islands, South East Asia, Africa, and Latin America, always with the goal of protecting wildlife through communities. She has published three books: Global Environmental Governance, Civil Society and Wildlife, Birdsong After the Storm, and All Things Breathe Alike: A Wildlife Anthology (co-authored with Donna Mulvenna and Jessica Groenendijk).