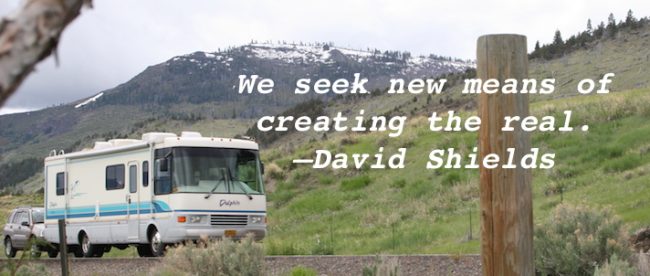 We tire of looking out our windows. There are wild sights beyond the glass, but we long for high-desert camping, under the open sky, among the sage and rabbitbrush and spring wildflowers. Weather reports say rain is coming, beginning with the day we plan to travel. We take both a good tent and a pickup with a camper shell. We will "just go," in the encouraging words of a neighbor.
On the day we drive away from home, dark-bottomed clouds lower down the hillsides, toward us. We are ecstatic to be moving.
***
Caravans are on the road. Homes on wheels, trailering ATVs or small foreign cars, mostly headed our way. We take this as a sign that rain has driven them from campsites where we are headed. We can't wait to repopulate a space that's been abandoned due to weather.
***
Camping derives from early 16th century French camp, champ, from Italian campo, from Latin campus "level ground." Specifically used for games, athletic practice, and military drill.
Camping: to remain consistently in one place. — Oxford English Dictionary
***
The high-desert wildlife refuge where Paul and I are going is named for antelope; they breed here, protected on nearly three hundred thousand acres of federal land. On the way in, we've seen small herds and individual pronghorn, not the "Serengeti experience" described by some — but perhaps they've witnessed that another time of year. Or another time, period.
We've pulled off the two-lane highway to scope the many lakes that give this county its name. Pelicans are hunkered down on small islands among cormorants. We follow the lilting flight of terns. Deciduous trees hold hidden delights like tanagers, warblers, woodpeckers. The spitting rain and constant wind.
On the road's shoulder we've found the scattered bones of small animals. One fully articulated skeleton suggests a deer who curled up in the shade to die. Perhaps a vehicle (doing 70 or so, the standard speed) clipped a hoof or struck the torso, the driver startled but not slowing, maybe pushed by another car following close behind. Both deer and driver felt the need to keep going.
***
At the refuge, we pull into one of nine parking spaces designated as campsites. Three are inhabited by large camp-homes. No one is outside; they are likely staying indoors out of the weather. Or wisely eating dinner while we're late arriving. About nine raindrops hit us as we set up our camping chairs. We uncork a bottle of merlot and dip lime-salt chips into prefab guacamole. We heat up madras lentils and basil-scented rice.
Through it all, "the desert smells like rain" (Gary Paul Nabhan). We are not separated from it by glass or wood or plasterboard. "Really living" (Russell Edmund Lawton).
To the east a waterfall drops over the dark, volcanic escarpment in a thin, sparkling line. Aspen tremble. Barn swallows barely clear our heads as we stare at the vastness between our camp and the road to the top of the mountainous refuge. The swallows wheel away using skill born of some ancient guidance system.
***
After a night of rain so light we've barely heard the patter, we are encouraged when the first humans emerge from their camp-homes. They greet each other and gather at one of the tables for breakfast and coffee. A sense of having survived the night, and survived well, fills the air. Some campers walk their dogs on and off leash. We smile and wave. We've stayed dry, too, and slept so deeply in the vast silence it takes us longer than usual to awaken. Hot coffee. Unsweetened chai because we've forgotten honey.
We ponder the camp-homes and their names. Nomad. Prowler. Freewheeler. One set of campers unhooks from their trailer and drives by in their tundra-clearing pickup truck. We wave and smile some more. We're out here together.
"Those guys are having a great time," Paul says, "but they're not really camping."
Meadowlarks warble from the tops of sagebrush and triangulate for territory. A constant drama takes place as we sip our hot drinks.
***
We leave early for the refuge's mountaintop acres. As we drive we're viewing the desert through glass again. A coyote near one of the lakes, raiding nests. Two white government trucks, hauling ass over the washboarded gravel. Damp roads. Departing caravans of campers.
***
At the visitor center atop the mountain, we are the only visitors. The single room is small, and unstaffed, with a guestbook that contains visitor entries about wildlife sightings. Gray coyote at the hot springs campground. Gray hawk on the road above the campground (perhaps a male northern harrier). "A dog on a leash — refreshing." Our own listing of two species of warblers. Antelope.
We see one employee, then another, and we are filled with hope. The extremely dated birding guide we carry for Oregon recommends consulting with refuge staff, here at the center, for information on where to view the greater sage-grouse. "This is usually the easiest and most enjoyable way to see Sage Grouse." We see one employee, then another, outdoors. We think of approaching them, hungry as we are for up-to-date information. Before we make a move, they turn from us, impelled by some ancient guidance system. We see only their backs as they hurry away.
***
After a day of birding, hiking, and soaking in hot springs, Paul and I return to the nine-site campground. Before dark, though, we decide to abandon our space (number seven). We loathe leaving the "level ground" where we've slept so well, but some gypsy urge compels us.
More campers have arrived, all with camp-homes, all towing ATVs. As the drivers pilot their big rigs, their heads barely clear the dash, their faces bunch in concentration. Their shapes are dwarfed by the behemoths they're steering, vehicles as big as school buses. The drivers, retirement age or so, draw on acumen acquired over sixty years of road warrioring. No special licenses are required, just a lifetime of skills.
I've driven big trucks pulling long, heavily loaded trailers. I imagine the drivers' hearts beat hard, as mine did, on skinny roads with crumbling asphalt edges. Even so these rigs made it here. A sign says the nine sites will close to public use over the weekend. These few who've arrived, then, are perhaps the advance guard to some convention or gathering.
Rain is intermittent. The campers sit inside and look out. We can't imagine what they think of our open-air approach to this day.
***
As we travel the wind is strong, carrying a bank of darker clouds toward space number seven, yielded now to someone else. That someone else might be a man in an ancient Land Rover we encounter while scouting new campsites for the night. He asks how far it is to the antelope refuge. We tell him, suggest that he might not make it there before dark. He looks unconcerned.
He asks where we're going. Farther west, we tell him. He talks of a campground we might try. "I stayed there twenty years ago," he says. "It's basically a huge lawn with parking spots. My wife loved it."
***
We head to the campground now associated with a man we suspect is a widower. We see antelope beside the highway as we go. They're standing in the wind, turning to stare as we pass by. They're curious by nature, we've been told, and may approach people like us if we were to stop and climb down from our gas-powered theater seats and our windshield viewing.
In campsite thirty-four, at the widower's campground, we finish our wine and dinner after dark. The cloud ceiling moves constantly on a colder wind that portends more rain. This park has more sites than the refuge had, filled with the same type of camp-homes we left behind. Campers may stay here up to two weeks without moving; they are allowed to stay consistently in one place.
***
Overnight, one object I've brought gets soaked in rainwater that leaks through some invisible entry point in the camper shell: the book Reality Hunger by David Shields. The leak was near my head, unnoticed by me. All night I didn't wake, although I dreamt of getting crosswise with the Mafia. Paul dreamt of terrorists.
In the safe light of day, we set the book to air out on the dashboard. The pages will dry and, although rumpled, will still be still useful. The book consists of blocks of text, some written by Shields and some appropriated. He borrows from others, he says, to blow up traditional prose forms.
A quote from page 54, one of the most rain-corrugated pages: "Skeptical of the desperation of the modernist embrace of art as the only solution, and hyperaware of all artifices of genre and form, we nevertheless seek new means of creating the real."
This post is created of text blocks like those in Reality Hunger. Mine are longer and not so skillful as Shields'. I'm not sure what I'm doing. I'm not able to mix the real and the unreal, as I remember it, or the fiction and nonfiction. I work hard to stay true to the latter. And yet, as Shields says, my filters and stilted memory turn my writing to fiction the moment it hits the page. In this way, using nothing more than pen and ink and faulty recall, I'm blowing up tradition. Naturally.
***
In the morning Paul and I follow a trail toward fields where sandhill cranes make their croaking call. We cross a creek to find cedar waxwings and more warblers and finches who are pros at working campgrounds. They, and the inhabitants of the camp-homes who won't move today, are the ones who are "really camping." So I understand, so I filter out of or into memory, as we leave campsite thirty-four in the morning.
---
Find my new book of essays, The Oasis This Time: Living and Dying with Water in the West (Torrey House Press), available at Indie Bound, Barnes & Noble, and Amazon.