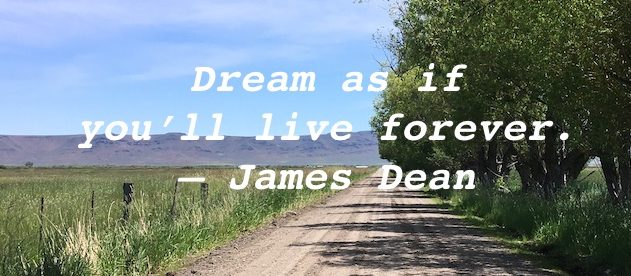 The second half of the James Dean quote, "Live as if you'll die today," is not nearly as fun to think about as the dreaming part. In fact, the thought of dying today fills me with panic. Yesterday, thinking about the beautiful day out there, I put off doing what I needed to do and headed for the mountains. The air was cool and buggy. The cottonwoods along the river were releasing their fluff, a little at a time. The swallows were going nuts diving for mosquitoes over the water flowing clear and lively.
I didn't have to run it to enjoy its scent and the sweetness of blooms on the willows. It was enough to sit on the bank and let the river, the birds, and the day come to me.
In the same fashion, I'll be coming to you this summer and fall. I'll be reading from and talking about The Oasis This Time, my new book (published by Torrey House Press). As the Wall Street Journal said of my work, "her expertise is apparent, as is her enthusiasm."
My enthusiasm, if it's true I have it, is for conversation that helps us understand our watery roots.
If you're near any of these local booksellers this summer and fall 2019, please stop in to join us for a conversation about water and the West. Support your indie bookstore!
Wednesday, June 26: Corvallis Book Bin in Corvallis, OR, 6:30 to 8 p.m.
Sunday, August 4: Jackson County Public Library in Ashland, OR, 1 to 2 p.m.
Friday, August 23: Northtown Books in Arcata, CA, 7 p.m.
Thursday, October 10: Rediscovered Books in Boise, ID, 7 p.m.
Friday, October 11: The King's English Bookshop, Salt Lake City, UT, 7 p.m.
Tuesday, October 15: Out West Books, Grand Junction, CO, 6 p.m.
Wednesday, October 16: Back of Beyond Books, Moab, UT, 7 p.m.
Thursday, October 17: Bluff Arts Festival, Bluff, UT, 7 p.m.
Tuesday, October 22:  Bookworks, Albuquerque, NM, 6 p.m.
Wednesday, October 23: Bright Side Bookshop, Flagstaff, AZ, 5:30 p.m.
As for the day, and the river, and the wildlife, and the time with trees: I just missed colliding with a young buck in velvet. Luckily I was driving 20 mph on dirt, and he beat me to the point in the road where we'd have met. He bounded on, his legs springs. My wandering took me down the mountain to the Paisley Saloon, where Corey made me a delicious lunch and gave directions to Lover's Lane (in the photo). After driving that road at top speed, 6 mph or so, just looking and listening and counting, I ended the day with the nearly full moon rising over the Ana River, the nighthawks dipping and rising, the gulls calling, the water cobalt and calm.
It's great to be alive, even if it's not forever.
Find my new book of essays, The Oasis This Time: Living and Dying with Water in the West (Torrey House Press), at your local bookseller, Indie Bound, Barnes & Noble, and Amazon.
---