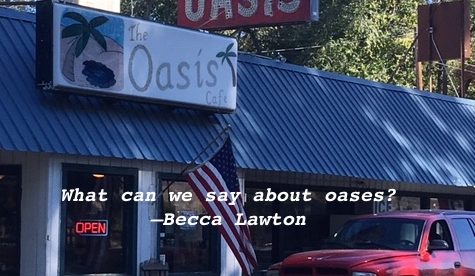 What can we say about oases?
That question, the opening sentence in my latest book The Oasis This Time: Living and Dying with Water in the West, has been central to conversations we've been having at bookstores on the Oasis World Tour, happening this week and next around the West.
The tour is supported by my publisher Torrey House Press, Utah Humanities, the Bluff Arts Festival, the bookstores and radio stations so generously hosting my talks, and viewers like you.
We started last Thursday in downtown Boise, at Rediscovered Books, two years after the October 2017 firestorms raged through my home county in California. Media outlets of all kinds carried news on the temporary shutdown of power by Pacific Gas & Electric, done to prevent similar conflagrations that might be sparked by power lines in event of extreme heat and wind. In the audience at the bookstore were three people besides me who'd lived through the October 2017 fires. We were some of the lucky ones; we lost neither or homes nor our lives.
I read a few passages from the essay "First Responders," which begins like this:
Sunday evening, October 8, 2017. Paul and I are sitting with friends after dinner, lingering late in our dining room in Sonoma, when a jolt of wind hits the house. Our open windows shake with the force. Gusts reach gale intensity all at once, leashed things now let loose. Leaves and branches batter the glass, debris tossed from live oaks on the hill behind us and Douglas firs toward the street. The tops of redwoods bend and pitch. We who are sitting at the table meet cautious eyes.
That night, when we found our voices again, I said, "Fire wind." I didn't know then how prescient that statement would be. In the hours to come, entire neighborhoods would burn, 40-plus people die in fires, 250 blazes flare up in 44 counties, and thousands of people evacuate their neighborhoods. In the days to come, 250,000 acres and 26,000 structures burned in the Sonoma fires alone.
In Boise we raised the point that apocalyptic events like that one are affecting people all over the world. Environmental refugees are at an all-time high, as I write in Oasis, the number of people on the move at its highest since World War II. Boise is seeing an influx of people who chose not to rebuild in other Western states after losing their homes in one of the recent fires. California, as always, brooks its share of immigrants, emigrants, and in-state moves, fires or no.
The World Tour went next to Salt Lake City, for an event cosponsored by The King's English and Utah Humanities. There we talked about the fires again—and linked the loss of green habitat due to water withdrawals from riparian zones and wetlands to declining numbers of birds and other wildlife. Graham Rich, grassroots organizer from the Utah Rivers Council, gave a brief talk on the proposed Bear River Development—likening it to another diversion project in whose image it has been created, the draining of Owens Lake to water urban populations and rampant development in the southern state.
In that audience, people shared their personal love of the Bear River Migratory Bird Refuge and what would be lost if those wetlands were to go the way of Owens Lake—or, as I pointed out, Sonoma Creek, where epic steelhead trout populations could no longer be sustained when summer streamflows were drawn down for urban and agricultural use.
We who came together to share the written word were also joined by our love of place—of the oasis-like places in the West that we'll be hard pressed to emulate in species diversity, design genius, and evolutionary value once they're lost. For all our human technology, brainpower, and can-do attitude, the things we value most are also those that most elude us.
As we concluded as well at The King's English last week, the attributes that make us our best human selves—our compassion, care for other beings, and love of place—are also the ones that we can draw on to protect places like the Bear River Refuge. Those best selves are the ones that say, "We Can Do It!" or "Yes, We Can."
---
Find my new book of essays, The Oasis This Time: Living and Dying with Water in the West (Torrey House Press), at your local bookseller, Indie Bound, Barnes & Noble, and Amazon.