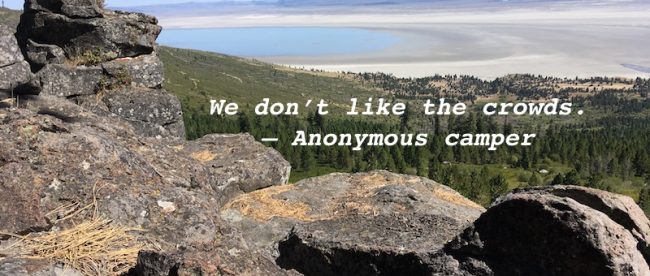 Up in the Fremont National Forest, a breeze wisps through the pines. There is the cool feel of autumn. The sounds of conifer needles moving are oceanic, waves of a million rippling things. Summer Lake lies below, a turquoise, late-season remnant of its fullest self. It's gone from dark and wind-tossed at its early-spring deepest to pale and shallow now. Also far below the ridge I'm walking, Highway 31 between La Pine and Lakeview hums with more traffic than usual–the last of the Labor Day weekend travelers.
I've written before about one autumn some five years ago when, over Labor Day weekend, a friend of mine took his own life. Our correspondence had waned in the months before it happened. We never wrote much, just a few words: a promise to keep a candle lit when the other traveled, comments on facebook posts, emails about water and rivers. Studying his facebook page after his death, I find a post of him at Burning Man. Surrounded by dust and sunlight, he smiles at the camera. He looks right at home and at ease against a busy background of cars and people running in long-skirted costumes.
---
The trail to Currier Spring is marked by faded, wooden U.S. Forest Service signs. Other than the rush of pine needles, it's quiet. At first, it seems empty, with no one here but us bi- and quadrupeds.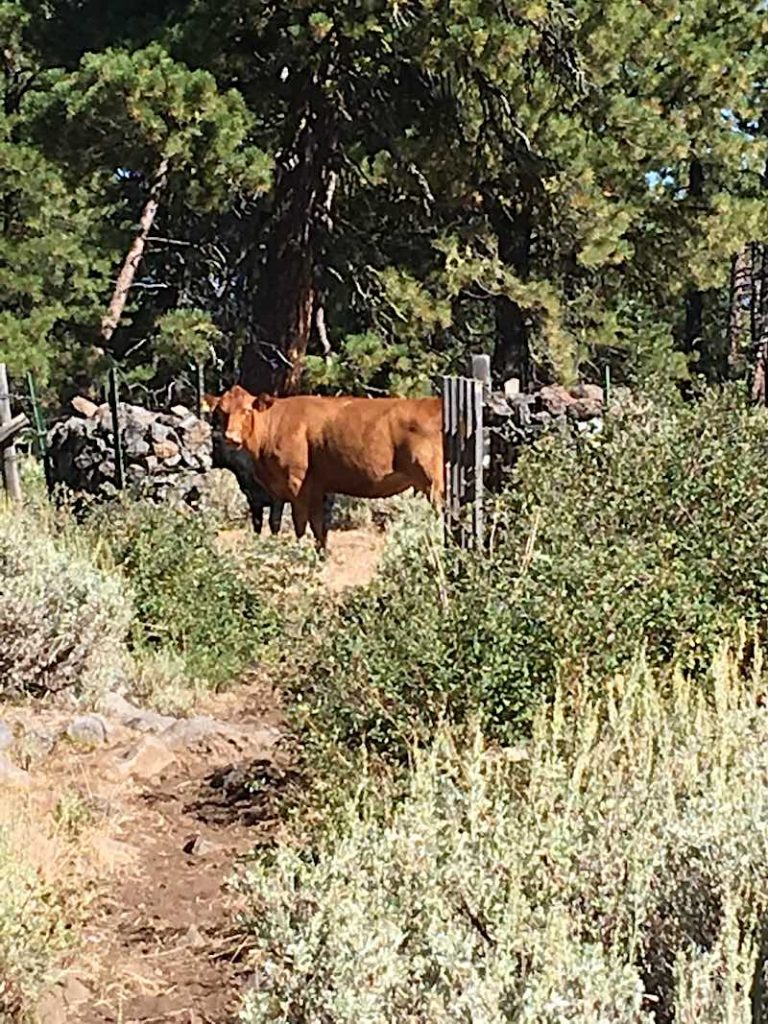 Empty, that is, until I scare up three ruffed grouse, scads of dark-eyed ("Oregon") juncos flashing their white-edged tails, and an army of mountain chickadees singing their names.
---
Burning Man takes place two hundred miles southeast from here. That distance is as the crow flies, straight to another playa, in Nevada. Below this ridge, dust-filmed vehicles stream by on two-lane Highway 31, each car or RV unique in the same sort of way. Days after the event, they still trundle past, streaming loose edges of tarps, bicycles tied to bumpers, windshield grimed but for the half-moons swept clear by wipers.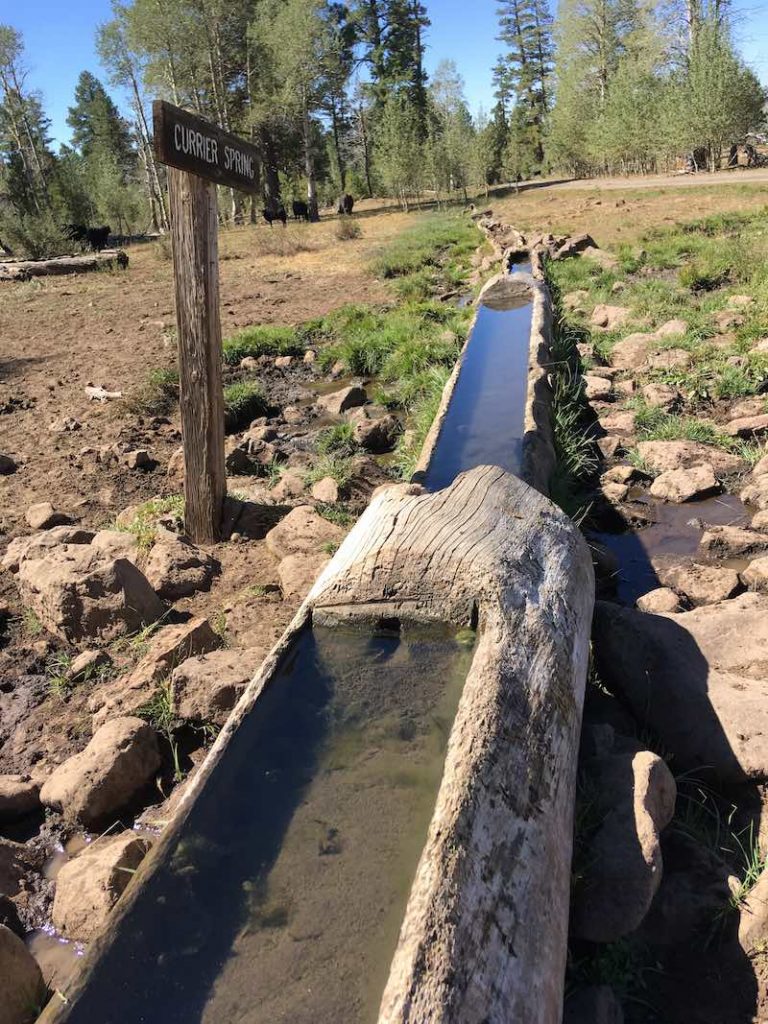 On the quarter-mile dirt road between Currier Spring and USFS 2901, I meet a couple from La Pine. They're cruising for campsites in their pickup truck with an on-bed camper. "We don't like crowds," they tell me. "We're just going wherever our fancy takes us."
We agree that these mountains are the place to be on this weekend. I wish them the perfect camping spot. They tell me to "be safe" and drive on.
---
---
Another challenge at Burning Man has been the copious trash left behind, although zero waste is one goal of the event. Walking the three miles back to my car, I pick up every piece of debris by the side of USFS 2901. It fills one pocket of my hiking pants. My inventory tells me that Coors and Coors Light cans outnumber Pepsi and Red Bull by 3:1. A mysterious price tag says "$50.00" in blue ink. There's a Chevron gas station receipt for $38. A cable of some sort. Two field-dressed cigarette butts. A fragment of milk crate.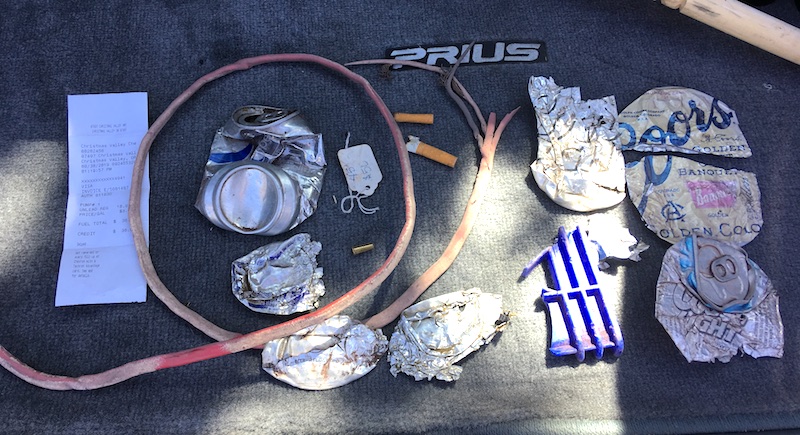 This is a very small haul. Multiply it by 80,000 and it would be something.
---
From the posts following my friend's death, I learn that it was unusual for him not to go to the Black Rock Desert for the gathering. One of his heartbroken burner friends wrote him a posthumous message on facebook: "You should have come with us." I'll never think of Labor Day without wishing my friend had gone to Burning Man, as the note on facebook said.
One should never say never, but, despite the urgings, I am not likely to go. Instead, I'll think of him and walk in the mountains. It's not depressing, it's comforting: the same feeling I used to get walking in flannel-lined pants passed down by my grandfather. Comforting, to be in the world he inhabited.
---
September reading, watching, and listening
It's awesome when authors, composers, and film-makers capture the subtlety of seasonal change.
1. Last of the Mohicans. You either love the last scene in the 1992 movie or you hate it, but there is something autumnal about the light.
2. Legends of the Fall. By Jim Harrison. In which not all seasonally identifiable scenes take place in the fall. In 2016, Grove-Atlantic bound the novella by itself.
3. Cold Mountain. Alienated by war and trying to get home, the mysteriously silent Inman seems always to be traveling in fading light. (I revisit the 1997 novel, not the book.)
4. Remember the Titans. In high school in the fall, those of us who played band instruments had to attend the games. I was swept into the madness of touchdown fever. We played the same songs the marching bands in the film play.
5. Autumn Leaves, the 1945 jazz standard. Musical melancholy, when the leaves start to fall. Roger Williams' 1955 cover was the first piano instrumental to reach #1 in Billboard magazine.
---
Find my new book of essays, The Oasis This Time: Living and Dying with Water in the West (Torrey House Press), at your local bookseller, Indie Bound, Barnes & Noble, and Amazon.