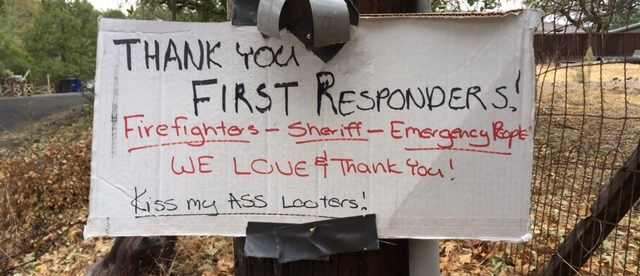 The air is clear now. Birds have returned to the yard. The cafés are no longer crammed with evacuees, people nervously checking their phones for the sheriff's updates. The stoplights are working again. Joggers go by without breathing masks; the families who'd abandoned our street when it cleared out are back with their strollers and young kids. The signs that read, "You loot, we shoot" are mostly memories. In their place are messages of gratitude, love, and thanks.
You can still pull up the interagency fire maps online, of course, and zoom in as far as you like. Now the maps showing the "Central LNU Complex" that burned up parts of Sonoma, Lake, and Napa Counties show the perimeters as fixed boundaries, not blobs creeping down canyons with little red squares at their edges signifying new flames. Now the maps are not the last thing we review at night, our hearts pounding, our fingers crossed that the Diablo wind won't blow up again.
We seem to be on the other side. We seem to be out of danger. For now. The twenty-seven percent of the valley that scorched is a past-tense number, not a fire monster waiting to whip into the neighborhoods. We're tentative, of course–there has only been a trace of precipitation since the firestorm–but even that helped cool things down. One neighbor raised his eyes to the sky just as the mist became rain, his hands out, his expression baffled. What is this? 
"About a week too late?" I asked.
"Yeah, baby," he said.
Up the street, a firebreak cut into the hillside when the fire was pushing its edges the hardest, when we'd already left our houses, has been rebrushed. The crews recruited pieces of scrub from the surrounding woods for regrowth. It's a common method in hill-scar restoration; help the native vegetation fill back in. Let the seeds and rootlets take hold.
We thank the sheriffs when we see them around town, and they ask how we fared. "Did your house make it? What neighborhood are you in? Did you have to get out? Where did you go?"
There are as many stories as there are people–those who evacuated, those who stayed, those who were lost, those who fought the fires, those who worked the barricades. There are the stories of the forest and wildlife that we may never know. There are the stories yet to come, of rebuilding, of rethinking, of regrouping.
We'll be talking about it for a long time. We may even be learning from it.