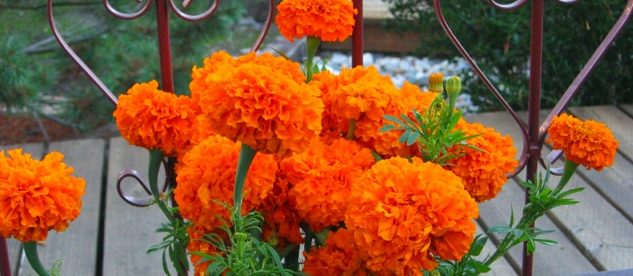 (This post, "Sopa," was first published June 14, 2013, at spoonwiz.com, edited by novelist Lillian Howan. I re-post it on a rainy February day, in honor of my warm-hearted friend, Paulette Dubickas. At this moment she's healing from eye surgery at her home in Santa Fe. My wish is that she regains her vision sufficiently–and more so–to see the brilliant marigolds in this photograph of her former garden in California.)
Onions soften in a cast-iron pot on my father's stove. He, who is almost ninety, sits at his kitchen island watching me cook. I hold up three large, luscious garlic cloves, praising their size and beauty. He smiles. I stir the onions, add poblano chilies cut into squares, and sprinkle in garlic diced into pieces the size of peppercorns. The air comes alive with the aroma of vegetables sautéing in oil, compounded by the pungency of cumin, cayenne, and red chili powder. Dad asks, "What is it you're making?"
"Tortilla soup," I tell him, for the third time today. I add black beans simmered to tenderness earlier that day, broth prepared from chicken bones, and chunks of tomatoes from the farmer's market.
My stepmom, Marge, joins us and breathes in deeply. She, too, is ninety. She smiles and peers into the pot. "It looks wonderful. What's it called?"
"Tortilla soup," I say again. "Comfort food."
I've only recently discovered the soup's healing properties while in the company of a friend, Paulette. She recently lost her nonagenarian mother. We've taken solace at Juanita, Juanita, one of Sonoma Valley's small but formidable Mexican restaurants. We've ordered the tortilla soup, because it's in season (Juanita takes it off the menu in the summer months). Between mouthfuls of rich broth, abundant vegetables, melted cotija cheese, and just-submerged strips of tortilla, we talk of beloved parents and siblings. Heartening bowls of sopa de tortilla punctuate family affection.
Wanting to share sopa with Marge, who has all but lost her appetite for her own cooking, I've made it the usual take-in meal for her and Dad. We eat indoors or out, depending on the weather. The range of acceptable temperatures has narrowed for them, especially for Marge who's as skinny as a lightpole. I follow their lead in deciding what is comfortable. If the day is balmy and to their liking, we eat on the patio near the edge of their colorful rose garden.
I've found that recipes for sopa abound. There are the quick, weeknight versions, ready in twenty minutes and prescribing the hasty addition of canned beans and tomatoes. Some versions suggest the substitution of Monterey Jack cheese for cotija and the use of chips rather than strips cut from whole, toasted tortillas. Some sopas come to the table fully laden with all toppings and those that allow one's guest to pick and choose from optional ingredients, buffet style. I've tried several varieties, and I've found them all good.
Paulette is a connoisseur. She cooks her own sopa adapted from various specialties she sampled in Oaxaca, Mexico, after the death of her only sibling. She traveled in the company of her mother and a Spanish-speaking companion, with whom she ventured from eatery to eatery celebrating the Day of the Dead. Whether in little home kitchens or ceramic-tiled restaurants, they found sopa freshly made and available. Paulette formulated a recipe of her own. She shared it with me, saying, "Here's a version that's basically what I found in Oaxaca, but I added the chard myself."
Paulette's Sopa de Tortilla
Ingredients:
4 to 6 corn tortillas, preferably stale store-bought ones
1 tbsp vegetable oil
2 to 5 dried pasilla chiles, stemmed and seeded (for mild soup use two, for hot use five)
1 medium large round ripe tomato (or one 15-oz can roasted tomatoes)
1 medium white onion, sliced 1/8 inch thick
3 garlic cloves
6 cups good broth, preferably chicken
4 cups thinly sliced Swiss chard or kale
1 large lime, cut into 6 wedges
1 to 2 cups cubed Queso de Oaxaca (or shredded brick or Monterey Jack)
Diced cooked chicken (optional)
Diced avocado (optional)
Roasted sliced jalapenos (optional)
Chopped cilantro (optional)
Salt and pepper to taste
Roast all ingredients in a comal, a large, flat, traditional cooking utensil from Mexico. Or use an old seasoned cast iron fry pan.
Slice the tortillas into 1/8-inch wide strips. Spray lightly with the 1 tbsp vegetable oil and brown in pan until brittle or crunchy. Set aside.
Cut chiles into rough 1-inch squares using kitchen shears. Reduce the heat under the oil to medium-low, let cool a minute, then fry the squares very briefly to toast them. They should smoke a little — even make you cough. Place chiles in enough broth to cover and let them rehydrate.
Roast the tomato, onion, and unpeeled garlic in the pan until blackened, soft, and blistered.
Cool slightly and peel the garlic, collecting all juices.
Puree chiles, garlic, tomato in a kitchen blender in enough broth to get the job done. Let it become smooth, or to your liking, then transfer to a 4-quart soup pan. Add remaining broth or just enough to suit your taste. When you add the condiments and greens, the broth should be soupy. Heat to pre-boil, then let it simmer for 5 to 10 minutes.
If serving all of this soup, add your greens and let them wilt. If serving only a few portions, ladle out what you want into a smaller soup pan and add the appropriate amount of greens for the desired number of portions. Serve immediately with assorted condiments such as cheese, diced chicken, chunks of avocado, jalapenos or cilantro.
Of course, sopa de tortilla doesn't work without a handful of the tortilla strips on top.
Makes about 6 cups, serving 4 to 6. Enjoy!
The sopa I concoct for Dad and Marge, on the other hand, has evolved from two recipes that promise to be both quick and easy. One comes from a page torn out of the December 2012 Sunset magazine. The second is adapted from a Winter-Spring 2013 "5 easy recipes to try" flyer picked up at a grocery store. Either recipe can be made in 30 minutes or less. When I want to prepare some of the ingredients fresh, I generally start in the early morning before the day's heat takes over my kitchen. Then I carry bags and coolers to Dad's kitchen to finish the preparation. Once there I sauté vegetables, add in spices, pour in broth, and submerge the cotija cheese. I reserve the lime juice to add after cooking, then top with chopped cilantro and sliced avocado. I toss in just-toasted tortilla strips or handfuls of chips straight from a bag, the latter if I want speed as well as a snack for Dad and Marge as they wait.
Becca's Quick Tortilla Soup
Ingredients:
1 tbsp vegetable oil
1 small yellow onion, coarsely chopped
2 to 4 garlic cloves, diced fine
1 poblano chile, diced to your liking
1/2 tsp each ground cumin, cayenne pepper, and chili powder
2 cups water or 1 15-oz can of good chicken broth
1 15-oz can of diced, low-salt tomatoes
2 cups cooked black beans or 1 15-oz can of black, pinto, or kidneys
1 small to medium lime, cut in half
1 to 2 cups crumbled or shredded cotija cheese
Diced cooked chicken (optional)
Sliced avocado (optional)
Chopped cilantro (optional)
Handfuls of chips or prepared strips of tortilla
Salt and pepper to taste
In a soup pot, warm oil over medium heat. Add onion and garlic and cook until the onion begins to soften, about 5 minutes.
Add the chile and spices and cook a minute more. Add the diced tomatoes with their juices, beans, and water or broth.
Cover and cook over medium heat, stirring occasionally, for about 10 minutes or until hot. Remove from heat and stir in lime juice and cotija.
Taste and add salt and pepper as needed. Ladle into bowls and top with optional toppings and non-optional tortilla chips. Serve immediately to waiting guests. Enjoy.
My time in Dad and Marge's sunny kitchen, where one stands at their stove facing a large picture window, is enriched by an array of hummingbird feeders hung over their patio. We often take time after eating to play games of dominoes and enjoy pots of Marge's favorite, electrolyte-laden tea. They'll whip me at dominoes, legitimately, and then Marge will disappear for a nap while Dad studies news about the stock market or works at a crossword puzzle.
While I cook the sopa, though, they won't stray from the kitchen. They sit and observe. Outside, hummingbirds come and go from the red plastic flowers of the nectar tubes, goldfinches mob a thistle seed feeder, and California towhees hop around the patio. These are all events of note, as is the state of the weather and the health of the neighbors and how much time is left until tax documents must be gathered for their accountant for next year. We recall particularly good Christmas celebrations, talk of their daughters and sons and grandchildren, and discuss where everyone will stay for Thanksgiving this year.
I serve up the sopa. If the weather is nice, we carry it with great care and ceremony to their indoor or outdoor table. Sometimes as we eat, there is no other conversation but praise of the soup between large draughts of broth. "Delicious," they take turns saying, and Marge in particular wears an expression of discovery and delight. "So full of different things," she says. "Thank you for making it. What is it called again?"
---
Find my recent book of essays, The Oasis This Time: Living and Dying with Water in the West (Torrey House Press, 2019), at your local bookseller, Indie Bound, Barnes & Noble, and Amazon.