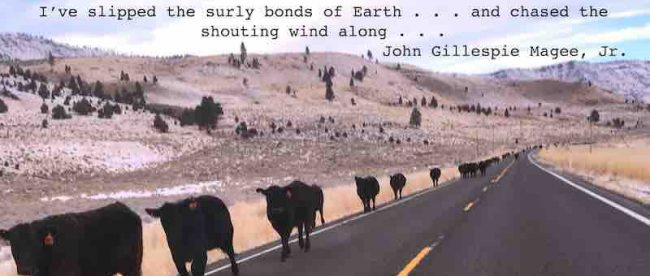 Winter didn't start til today, but who could tell? Temperatures were already barely climbing above freezing during the day. Snow that fell in the nights hung around during the days, reimagining itself through the frigid darkness into more amazing crystals with feather forms and blades that then caught the morning light like cut diamonds.
I don't leave Summer Lake often–I don't want to miss a single gorgeous sunrise–but last I did, I came upon a mid-morning cattle drive going south. The few, single-file beasts gave way to a great herd filling the asphalt from shoulder to shoulder. Ranchers and their black-and-white cattle dogs nudged anyone who strayed off the road back toward the center line. It was a slow, noisy process, the animals moving at the speed they could handle and everyone going at their pace, on horseback bundled in Carhartt coats and large-brimmed, wool hats. The cattle, the cowboys, the dogs, the companion cars that followed at a crawl, lights blinking–everyone looked right at home. Everyone waved, and I waved back.
Winter migrations of cattle; winter travel by snow geese that pass in Vs with high, yapping calls. Once on the move, it's easiest to keep moving–inertia is overcome, like slipping the surly bonds of earth and paddling out into a current. I wrote the following blog post about inertia in writing a few years back and share it here again.
Rising in the dark to write is easiest in winter. The nights are so long that even as late as seven a.m., Orion's belt is still wheeling overhead. Morning light isn't yet growing over the hills to the east. When I step outside for a breath of cool air, there's only the sound of fog dripping from the oaks and redwoods.
Morning time is best for my work. For others, it's after midnight. Still others like to create in late morning, or after lunch, or after dinner.
Friends have told me, "I admire your discipline," but I don't have any, really. It's not discipline that gets me out of bed. Rather it's the memory that, if I rise early, then no matter what's scheduled for later in the day, I get to go to the page and make something up.
Settled at my computer or notebook with the blank page before me, though, I want to flee. I have an urge to leave both desk and work-in-progress for the vitality of the outdoors. Or to chat with friends. Or even to start going through unopened mail and unpaid bills. Lately I've recognized this urge in myself that's been there all along, but I've only just named it. I know its familiar face as soon as it arrives: that reluctance to begin. Inertia. That sometimes-hopeless feeling that nobody cares and least of all myself.
Rising to engage in routine is easier than actually doing it.
Still, I know that my I.Q. is highest earlier in the day, so I feel an urgency to get started. Those hours of brightness are like money in the bank—best not to squander it. Best to protect it with everything we have.
And once the pen is moving, it's hard to stop. Starting the process shifts the pull of inertia in the right direction–forward, toward newness, toward discovery.
Then by the time the light is growing out my window, and the first geese of the day sing their way past, and the great-horned owls who call before dawn have hushed for the night, I've already put down five hundred words, or a thousand. And, whether the work's good or not, I can't stop typing.
_____________________________________
Find my new book of essays, The Oasis This Time: Living and Dying with Water in the West (Torrey House Press, March 2019), available for presale at Indie Bound, Barnes & Noble, and Amazon.