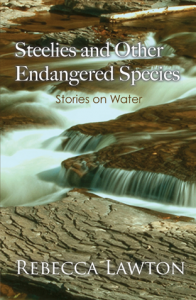 ALL FIFTEEN STORIES IN THIS COLLECTION ARE LINKED BY WATER.
"Lawton's fluid prose flows like her beloved river, in majestic sweeps, in roiling rapids, and in clear running pools where the surreal depth becomes within reach. Simply one of the best collections I've read in years." — Andrew X. Pham, author of Eaves of Heaven: A Life in Three Wars and Catfish and Mandala
In fast-moving waters, the characters find solace from their painful pasts and fight to save that which they love and is most endangered. Rivers, oceans, and ephemeral washes are not only settings, they're vessels for our most beloved element in all its liquid beauty, strength, and potential for violence. Steelies and Other Endangered Species: Stories on Water is an unforgettable journey on water by an author who knows it from the inside out, having guided on it, swum and sailed it, rowed and paddled it, and researched and written about it for decades.
"Lawton's beautifully rendered and accessible stories make you want to move quickly from beginning to end, but I urge you—savor the journey. Breathe in the spirit of each new place." — Page Lambert, author of In Search of Kinship and Shifting Stars
"Lawton enchants the reader with emotional honesty and an intensity that infuses her stories with the beauty of the natural world." — B.C. Rimbeaux, author, entrepreneur, and whitewater guide
[wp_cart_button name="Steelies" price="15.95″ ship="0.001″]
*For expedited, International, Alaska or Hawaii orders,
please email Becca for pricing.