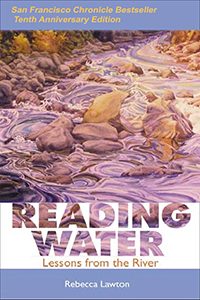 For millions of Americans and foreign visitors who have navigated America's great rivers by raft or boat – and for those who wish they could – this book explores rivers and their impact on the human emotional landscape. Lawton offers such seekers not only the thrill rides and vacation destinations of our rivers but also their rich ecosystems and spiritual wellsprings: "To those who come to know them well, rivers are home . . . It was the river that taught me instinctive responses, in an unparalleled mentorship that led me throughout the American West every day for more than a decade. Being on the river every day taught me to read water – to psyche out where rocks hid in riffles, find safe passage in inscrutable rapids, and keep moving in flatwater sections." Now, years later, she offers many of the lessons she learned from interpreting rivers and currents, living in the river community, and being steeped in boating subculture.
[wp_cart_button name="Reading Water" price="14.95″ ship="0.001″]
*For expedited, International, Alaska or Hawaii orders,
please email Becca for pricing.