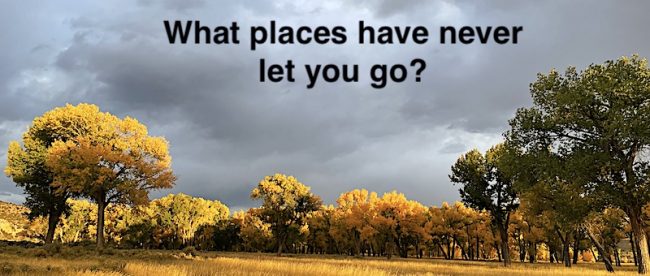 Literature of place has been with us forever, from the heroic journeys there and back again (think Homer and Gilgamesh) to the writers-who-stay-in-residence (Dickinson and Thoreau). Whether we travel far or spend most of our time engaged with our local parks and backyard gardens, place has staying power in our hearts and minds.
This week, on my way to giving literary readings in Colorado and Arizona, I've been revisiting a few places in Utah and Colorado that inspired parts of What I Never Told You: Stories (2022). Seeing valleys and rivers that have never lost their grip on me, I wanted to share them with you, along with references to the book.
Here are just six photos taken on the road during the last, sweet days of September. I'm still traveling so can't include shots of the wall at Nankoweap Creek in the Grand Canyon, or Sonoma Creek in my home valley, or my mother's leafy hometown in upstate New York; but the sights, sounds, and scents of each of those places—and more—haunt me. They also work their way into stories and help shape the characters living in them.
What are a couple of places that have never let you go?
Come hear more from What I Never Told You on October 4, 2023, in Grand Junction, Colorado; October 5 in Dolores, Colorado; October 6 in Durango, Colorado, or October 11 in Flagstaff, Arizona. More details here. I'd love to see you.

---