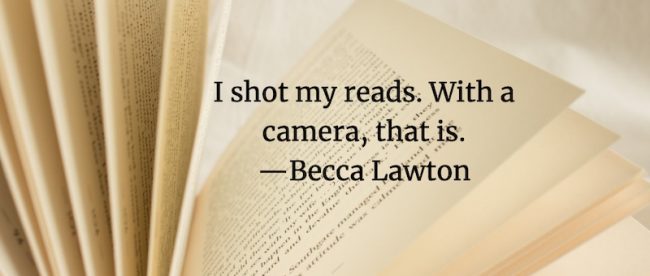 Rather than muse about the hot summer, I thought I'd post this exciting news about the success of a handful of youth climate activists in Kalispell, Montana (Sierra). But then I thought maybe you'd already read about them. So I went to post this exciting, thought-provoking article on climate-savvy travel, "Planes, Trains, and Decarbonization"—I really couldn't put it down—but then I thought maybe you'd read that, too (also from Sierra).
Next, rather than muse about drought, I thought I'd share Morgan Sjogren's "Drops of Hope along the Colorado River." (You guessed it: Sierra.) Such gripping reporting, with insight from Navajo tribal members about Colorado River water rights. As Diné hydrologist Crystal Tulley-Cordova says:
The problems facing the Colorado River go beyond human consumption. If water levels fall below dead pool in Lake Powell [too low to flow downstream], it would sever the Grand Canyon and all its wildlife from their primary water source. Rafting down the river, she said, "may not be a possibility of the future."

—Navajo Nation hydrologist Crystal Tulley-Cordova
What is left for me to write? I wondered. These people are all over it. So I eyed the stack of books I read in July. Inspired by my friend Kenny Jackson, who faces a ton of enforced rest with some enticing books and sent out photographs to prove it, I shot my reads. With a camera, that is.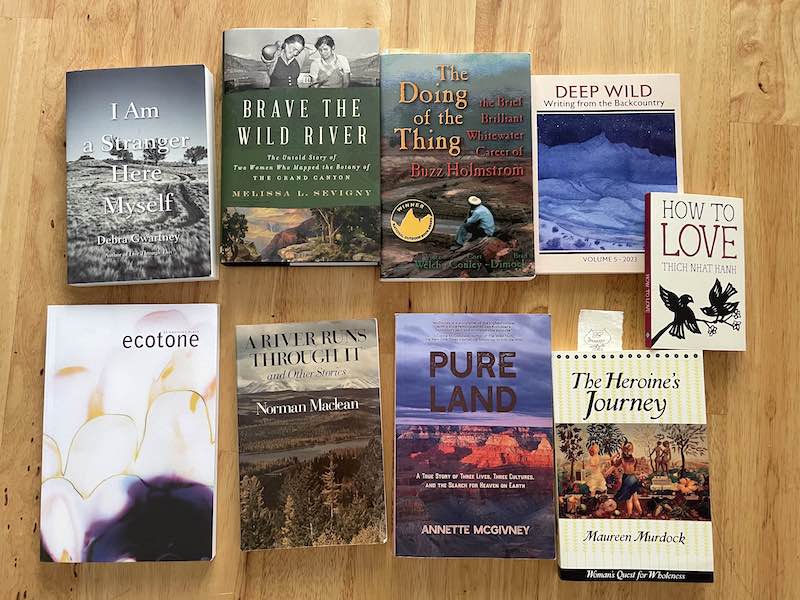 I've shared a one-sentence annotation of each book below, listed more or less in the order in which they leapt into my hands. All are tremendous reads.
I Am a Stranger Here Myself. Debra Gwartney (U. of New Mexico Press, 2019)
Fifth-generation Idahoan Gwartney dives deep in this absorbing exploration of her roots, settlers in her home region, and their bloody clash with indigenous communities.
Brave the Wild River: The Untold Story of Two Women who Mapped the Botany of the Grand Canyon. Melissa L. Sevigny (W.W. Norton, 2023)
In search of desert flora in 1938, two botanists become the first women to through-run the Colorado River in Grand Canyon.
The Doing of the Thing: The Brief, Brilliant, Whitewater Career of Buzz Holmstrom. Vince Welch, Brad Dimock, and Cort Conley (Fretwater, 2019)
Pioneering river-runner and great soul Buzz Holmstrom shoots rapids, warms us with kindness, and breaks our hearts all in the same short lifetime.
Deep Wild: Writing from the Backcountry. Vol 5. Rick Kempa, founding editor (2023)
Engaging journal of literature and art in celebration and defense of places where there are no roads.
How to Love. Thich Nhat Hanh. (Parallax, 2015)
Beloved Zen teacher and leader Thich shares his accessible and always loving views on how to love ourselves and each other.
Ecotone: Reimagining Place. David Gessner, Editor-in-Chief (2023)
Imaginative graphic literature, prose, poetry, and art to bend our minds around, around place.
Pure Land: A True Story of Three Lives, Three Cultures, and the Search for Heaven on Earth. Annette McGivney. (AUXMedia, 2017)
Illuminating, gripping weaving of the 2006 stabbing death of Tomomi Hanamure in Havasu Canyon with her murderer's life—and the author's own journey.
The Heroine's Journey: Women's Quest for Wholeness. Maureen Murdock. (Shambhala, 2019)
Ground-breaking look at the many ways in which the mythical hero's journey doesn't fit the heroine's, and vice versa.
And last but never least:
A River Runs through It and Other Stories. Norman Maclean (U. of Chicago, 1976, 2017)
Classic tale of rivers and family loved and lost stands up over time as the best books do.
Enjoy! And let me know what you're reading.
---
Like "Reads"? READ MORE: What I Never Told You: Stories (Wavegirl, 2022). Back in print following a limited-distribution edition, Steelies and Other Endangered Species: Stories on Water (Little Curlew Press, 2014).