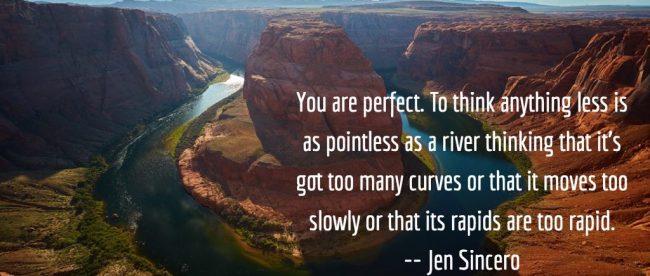 Who doesn't love quotations about rivers? I find this one charming (by Jen Sincero, author of You Are a Badass: How to Stop Doubting Your Greatness and Start Living an Awesome Life), but she is writing about what a river might think when she might not actually know what's in the mind of water. In so doing, she's stepped outside the bounds of her own expertise and writing what she knows. That's a bit of advice up for debate, anyway, as Nathan Englander says,
I think it's the best piece of advice there is, but I think it's the most misunderstood, most mis-taught, most misinterpreted piece of advice that there is.
(Read more about writing what you know here
Thirty-one Writers Comment at LitHub
and here
Write What You (Want to) Know at Brevity.)
I'm not an expert on expertise, but I do find Jen's anthropomorphized advice valuable. She uses the river to teach about our human perfection, that singular quality we were born with, which, as she says, we shouldn't question. She also sets the observation beside advice in areas in which she is an expert, and we trust her.
Moreover, Jen is seeing clearly in recognizing that rivers do have different reaches, some slow, some rapid, some curvy. And most of us know that. And so it works.
Plus, such creativity is inspiring. Jen's sentence sent me into a whirlwind of reviewing other river writing–lovely waterscapes–inspiring this random list of mesmerizing water quotations. As spring whisks us away, so do these thoughts on deep and shallow places.
Then a very odd thing happened–the river said it loved the salmon. No one had ever said anything like this before. No one had taken this chance. It was an honesty that pleased everyone. — Barry Lopez, "Hanner's Story," River Notes
The petals fall/and the river takes them–/plum tree on the bank. — Old Unribo, care of Buson and Robert Hass, The Essential Haiku
Eventually, all things merge into one, and a river runs through it. The river was cut by the world's great flood and runs over rocks from the basement of time. On some of the rocks are timeless raindrops. Under the rocks are the words, and some of the words are theirs. — Norman Maclean, A River Runs through It
At night, alone,/The world is a river in me. — Linda Hogan, "Night and Day"
Compared to trout or salmon, the humpback chub is a weak swimmer. In whitewater, however, it soars like an eagle, using its hump as a hydrofoil in the river's roiling, incessant Jacuzzi. This anatomical feature helps the fish hold its position near the river bottom, where currents are less bruising, without expending much energy. I slipped my hand into the [water] and gently cradled what amounts to a muscle with a tail. The shape of the fish was the shape of the river. — Ellen Meloy, "The Zen of Chubs," Raven's Exile: A Season on the Green River
But this isn't a map of the gods./When they live in rivers/ it's because the rivers have no equilibrium;/gods resent equilibrium when everything/that lives, moves. — Jim Harrison, "The Theory and Practice of Rivers"
The first thing to see, looking away over the water, was a kind of dull line–that was the woods on t'other side–you couldn't make nothing else out; then a pale place in the sky; then more paleness, spreading around; then the river softened up, and warn't black anymore, but gray; you could see little dark spots, drifting along–trading scows, and such things; and long black streaks–rafts . . . " — Mark Twain, The Adventures of Huckleberry Finn.
Write on. Write with courage. Write as a river might, with expertise as well as abandon. There appears to be a quest for balance between writing what one knows and wants to know, to be a great writer. I don't know yet, but IMHO, that's what we're here to find out.