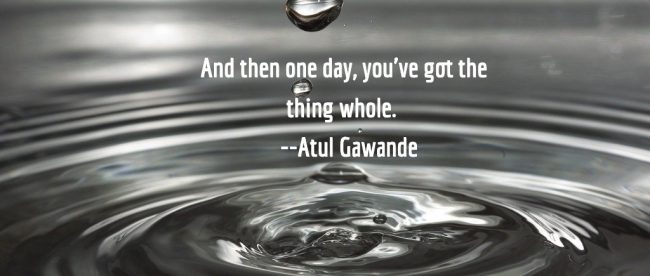 River guides learn to take feedback from the water itself, sensing when we've caught the right current. Slamming a boulder or rock wall or ending up on a slow boat to nowhere gives feedback in real time. It's not always learn or die––but it's certainly learn or suffer long timeouts in eddies or slave-rowing against the wind.
It takes practice. Attention and practice and practice and attention to the fragments of learning to adopt. Knowing the feel of doing things right, the ease of it, and the sound of being in the right place. Things might not click, exactly, but the water hisses in definite agreement under the boat. Things go with more ease.
When I first wanted to write books––decades ago––I lived and worked in Utah. Everything was new and different from my upbringing on the West coast. The red rock country. The distance between towns. Long highways through places with names new to me but old to the landscape: Kayenta, Ganado, Winnemucca.
Anytime I stopped for a break in driving or working, I'd head to a café with my writing notebook. I'd jot snippets of conversation, signage, sights from the road. Everything would be setting or dialogue or illumination in an imagined novel someday.
I felt more or less comfortable sitting alone in high-desert cafés with a cup of tea or bowl of oatmeal before me. If I wrote like mad, keeping my pen moving, I believed I'd followed the sort of flow I'd found on the river.
The people in those cafés were busy, dawn risers and going-til-suppertime farmers, ranchers, store owners, cooks. Feed store caps were common indoors; servers wore aprons over horse-wrangling jeans.
Sitting and writing, I sort of fit in. I too had tools of the trade to wield. Maybe I even looked important, as I sensed they were important in their worlds.
One time near Moab, Utah, circa 1976, in a little café whose exact location I've forgotten, after driving my VW squareback for days, I was having breakfast, staying busy with my notepad, listening, and jotting things down.
A man approached me. He had a nice tan under his brimmed cap and wore jeans and denim jacket. "Excuse me, miss."
I froze. This was it. If he glimpsed what I was writing, he'd see that my scribbles weren't as important as I was hoping I looked.
I moved my hand to cover the page. "Yes?"
He pointed to my VW. "You left your lights on out there."
Already I felt my cheeks going red. "Thank you."
I hurried out to turn them off and walked in again without meeting anyone's eyes.
No doubt the gentleman had just saved me a jump (or tow, in the unlikelier-than-heck event no one there had cables).
There's nothing wrong with listening––it's one way to learn––but if I hadn't been so shy or removed in some way I'd have had more conversations. Journalist Celeste Headlee's We Need to Talk: How to Have Conversations that Matter makes the case that, at times of great polarity (as this time is, among Americans), the discussions we need most are those with individuals unlike ourselves.
Sort of like the people I was among for the first time as a river guide.
In an environment like the one back in Utah––decades ago in a world we don't really inhabit anymore––I would've learned a lot by not only listening to those folks, but by asking questions. And listening to answers. Then I'd really have learned a lot.
Later, living in northern Utah, I had many more opportunities to do that. Then I was part of the community, and although the people were different from me, we had a lot in common, too. We didn't share the same religion or similar lifestyles, but we became friends.
Everybody I talked to loved the river, for fishing, boating, or picknicking. And the river was why I was there. (And that place and those people inspired my first novel, Junction, Utah.)
It took practice and being open. As author and surgeon Atul Gawande says, "Practice is funny that way. For days and days, you make out only fragments of what to do. And then one day, you've got the thing whole."
(Updated from May 1, 2018, blog post "Mistakes.")
---
Find my recent book of essays, 2020 Nautilus Book Award Winner and 2019 Oregon Book Award Finalist The Oasis This Time: Living and Dying with Water in the West (Torrey House Press, 2019), at your local bookseller, Indie Bound, Barnes & Noble, and Amazon.