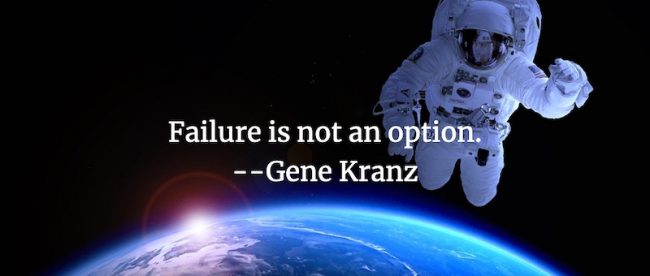 "Failure is not an option," words famously uttered by Ed Harris as NASA Flight Director Gene Kranz in the 1995 movie Apollo 13, weren't really his. Instead, they were coined during the film's creative process.
As NASA Flight Controller Jerry Bostick says of meeting with the screenwriters tasked with developing the script:
One of their questions was, "Weren't there times when everybody, or at least a few people, just panicked?" My answer was, "No, when bad things happened, we just calmly laid out all the options, and failure was not one of them. We never panicked, and we never gave up on finding a solution." I immediately sensed that [writer] Bill Broyles wanted to leave and assumed that he was bored with the interview. Only months later did I learn that when they got in their car to leave, he started screaming, "That's it! That's the tag line for the whole movie, Failure is not an option. Now we just have to figure out who to have say it." Of course, they gave it to the Kranz character, and the rest is history.
Panic-worthy events surround us: deadly wildfires, increasing numbers and intensity of hurricanes, rising air and water temperatures, pandemic loading onto climate challenges experienced especially by poor and marginalized communities.
As California Governor Gavin Newsom said among the ashes and coal of forests in Oroville, CA, this week (as COVID ravaged California's Central Valley too): "We're fighting against [increasing greenhouse gas emissions] . . . This is a climate damn emergency. This is real and it's happening."
And Philip Duffy, President of the Woodwell Climate Research Center, was quoted in the New York Times on climate's role in recent wildfires: "Fundamentally the science is very, very simple. Warmer and drier conditions create drier fuel. What would have been a fire easily extinguished now just grows very quickly and becomes out of control."
Environmentalist and writer Bill McKibben wrote for The New Yorker summarized the situation last month: "If Joe Biden and Kamala Harris take over the White House, in January, they're going to be dealing with an immediate and overwhelming climate crisis, not just the prospective dilemma that other Administrations have faced. It's not coming; it's here."
And climate intensification isn't as short term as we believe pandemic will be, even if viral threat looms through our lifetimes.
What are our options? It's past time for us to lay them out as calmly as the NASA team did. Key word team. Here are some qualities the Apollo team had going for it:
They unified behind a strong leader trained to handle difficult situations
They approached hurdles as something surmountable and considered each option from that point
They had a flight plan and developed a Plan B (and C, D, and E).
So how do we unite behind a leader, talk about options and plan for hurdles without losing our minds and our friends, and plan for the health of our planet, our children's future, our survival?
Certainly not by believing old, tired myths. Powerful myths embedded in the fabric of culture may be counterproductive but can be busted (as Bill Moyers helped clarify):
And where we had thought to slay another, we shall slay ourselves. And where we had thought to travel outward, we shall come to the center of our own existence. And where we had thought to be alone, we shall be with all the world.
Myths about climate change mask important data: the correlation of rising CO2 emissions with rising global temperatures, for instance, or monitoring results showing increasing heat and drought. 
We need to scrap the myths, see the situation clearly for what it is. We can support leaders mapping out plans for mitigation, adaptation, and offsetting our changing climate. We're late getting started, but so were those in the NASA Apollo 13 mission.
Kranz and team were working to offset a problem built into the spacecraft years prior. Still, they didn't throw up their hands and say this isn't our fault. Instead they didn't consider failure as an option and never gave up on finding a solution.
One thing we can do right now, all of us, is to ditch the myths on climate.
Here's a short list of easily accessible and trustworthy sources to support anyone's climate learning. This is a list to keep on hand, with sources even a skeptic can dig into and trust. Request the list here.
Then just speak up. Just think about it. Talk about it with fact-based stories.
Check out the causes, gently rebut denial, build your own expertise. Know the top ten climate myths still perpetuated by many. The intriguing website Skeptical Science lists these top ten climate myths:
Climate has changed before
The sun is to blame
Global warming isn't so bad
There's no scientific consensus
Climate's actually cooling
The climate models are unreliable
Temperature records are unreliable
Animals and plants can adapt
The planet hasn't warmed since 1998
Antarctica is gaining ice.
Then Skeptical Science goes on to list what science really says, that each of those myths was proved wrong some time ago. They're still powerful, though, and debilitating to our progress toward combatting our part of change.
Gene Kranz may not have originated the phrase "Failure is not an option," but he's come to exemplify it. He even used it as the title for his 2009 autobiography. One thing he did say was the people who brought home the Apollo 13 astronauts against impossible odds "were people who were energized by a mission . . . capable of moving right on and doing anything America asked them to do in space."
Sounds like a plan for Spaceship Earth.
---
Find my recent book of essays, 2020 Nautilus Book Award Winner and 2019 Oregon Book Award and Foreword INDIE Finalist The Oasis This Time: Living and Dying with Water in the West (Torrey House Press, 2019), at your local bookseller, Indie Bound, Barnes & Noble, and Amazon.