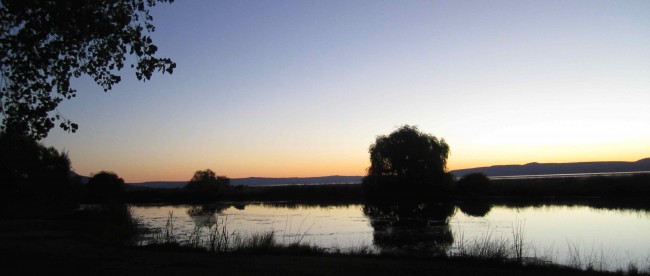 Go: Four Good Reasons to Write in the Dark
Writing tends to happen in the dark—at least that's what many authors have told me. They say they find that writing while others sleep helps them get the work done. "I set my clock for 4 a.m. so I can get in two hours before the kids wake up" or "I go to my writing desk after cleaning up dinner dishes and write until 10" or "I find that the hours between midnight and dawn are the quietest—I do my writing then."
Those of us who are dawn writers can no more imagine working past midnight than we could fly to the moon. But we also know it's an individual preference. The time of day doesn't matter, though: if a writer tells me that's what works, I believe it. And I know she must seize that time as if it's a lifeline.
1. When you're done, you can forget about it.
The spectacularly successful journalist and fiction writer Ernest Hemingway liked to rise at dawn to write fiction. He also liked to forget about his work-in-progress when he was done for the day.
It was in that [writing] room too that I learned not to think about anything that I was writing from the time I stopped writing until I started again the next day. That way my subconscious would be working on it and at the same time I would be listening to other people and noticing everything.
Hemingway fervently wanted to be a great writer—his work is full of references to that wish—and he achieved it. One of the ways he did was to follow both his set schedule and his intention to be present once he'd done his work for the day.
When I was writing my collection of essays, Reading Water, I had no experience with disciplined writing schedules. I had been a classical French Horn player, though, from which I knew that practice was the key to turning talent into art. So if practicing one's craft in the early hours was good enough for Hemingway, it was good enough for me.
His model of getting outdoors when he was done spoke to me, too. He liked to play tennis in the afternoons. I like to swim, bicycle, walk, and do weight training. Which brings me to the pleasures that await after quitting time.
2. You get to quit for the day knowing you've done your work.
In If You Want to Write: A Book about Art, Independence, and Spirit, writer and teacher Brenda Ueland talks about the importance of walking outdoors every day.
I will tell you what I have learned myself. For me, a long five- or six-mile walk helps. And one must go alone and every day. I have done this for many years. It is at these times I seem to get re-charged. If I do not walk one day, I seem to have on the next what van Gogh calls 'the meagerness.'
'The meagerness,' he said, 'or what is called depression.' After a day or two of not walking, when I try to write I feel a little dull and irresolute. For a long time I thought that the dullness was just due to the asphyxiation of an indoor, sedentary life (which all people who do not move around a great deal in the open air suffer from, though they do not know it).
I like to follow this advice, and I find it frees my creativity and fills my work with astonishing ideas. I've learned to carry a notebook and jot ideas; I do some of my best brainstorming while walking. The longer the walk, the better.
Knowing the reward makes it's easier to get my daily words on paper. Which brings me to the wisdom of the 500 words.
3. You get to either stop or keep going.
My colleague Ken Rodgers is a prose stylist of great skill and intelligence. He's an ex-Marine, filmmaker, photographer, and instructor. His website shows his various talents and how he's harnessed his immense dedication and energy for creative good. When he agreed to visit my website as a featured writer late in 2015, he described how he writes.
My writing is not a practice, it is hit-and-miss. I don't write every day. Sometimes I don't write for weeks. Sometimes I write in large quantities. Right now, if I can stick with five hundred words a day, I'm very happy. Five hundred words a day adds up.
How true. Writing five hundred words a day adds up. Another amazing thing sometimes happen, too, when we sit down to write the 500—we can't stop. We've broken the barrier of inertia and just want to keep going. We're engaged with our own prose. We may even want to finish what we're writing before time runs out or the grim reaper, ever vigilant, find us. Which brings me to the fact of our mortality.
4. You get to be alive, right now.
In her essay "A Writer in the World" from her book The Abundance, Annie Dillard writes addresses the fact of our impending deaths.
Write as if you were dying. At the same time, assume you write for an audience consisting solely of terminal patients. That is, after all, the case. What would you begin writing if you knew you would die soon? What could you say to a dying person that would not enrage by its triviality?
Or, as a sticky note on my desk asks me, "Is there love on every page?" And, as my boating and writing friend Louise Teal once said to me, "We're not getting any younger here." Find a time of day that is best for laying down your words, if that's what you're choosing to do with your short and amazing life.
Write your schedule in your daily calendar, if it helps. Don't ignore it when you see it there. Go write. Then go play. Go.