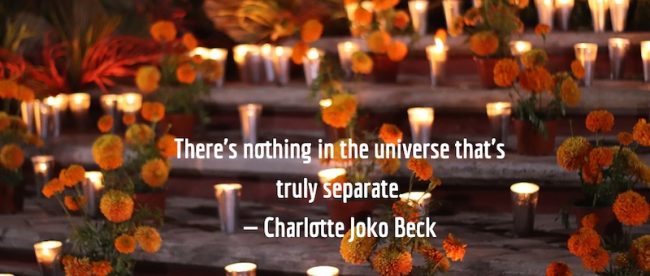 Nothing in the world is truly separate, say the physicists and Zen priests, all of us borderless entities of light and space (and water). And here we are at the time of year where many of us yearn to reach across the veil. Perhaps we perceive, and want to pierce, the membrane separating us from those gone before.
On this first night of Día de los Muertos, the witching hour (time of greatest permeability between those still breathing and those beyond) engages people around the world. Though we may not agree on exactly which hour we mean.
Shakespeare in Hamlet said the veil thins most around midnight. Then, "when churchyards yawn, and hell itself breathes out Contagion to this world," people like the Prince of Danes and Darkness are haunted as never before.
Men of the cloth, on the other hand, have said the veil tends to open about two hours before dawn. Just before dawn, most humans sleep. Prayer offerings are few.
Powerful churches once forbade women, who might stray to sorcery, from roaming the streets in those pre-dawn hours. Then, we whose bodies are most ruled by the earth's tides and moons become both the threat and the threatened.
My friend Paulette, after the death of her only sibling, traveled to Oaxaca, Mexico, to dive into the Celebration of the Dead, October 31 through November 2. In shared grief, she traveled in the company of her mother. A Spanish-speaking companion took the women around town to see how celebrants offered solace to seekers.
The women knew how to comfort travelers. In little home kitchens and ceramic-tiled adobe restaurants, Paulette has told me, cooks served sopa freshly made to soothe the travelers in search of their loved ones.
Now, every autumn in her home in New Mexico, Paulette adapts her own soup from the recipes used in Oaxaca. Inspired by a creamed soup recipe, she adds chard. "But we skip the squash," she says. Personal preference.
---
Paulette's Sopa de Tortilla
Ingredients:
4 to 6 corn tortillas, preferably stale store-bought ones
1 tbsp vegetable oil
2 to 5 dried pasilla chiles, stemmed and seeded (for mild soup use two, for hot use five)
1 medium large round ripe tomato (or one 15-oz can roasted tomatoes)
1 medium white onion, sliced 1/8 inch thick
3 garlic cloves
6 cups good broth, preferably chicken
4 cups thinly sliced Swiss chard or kale
1 large lime, cut into 6 wedges
1 to 2 cups cubed Queso de Oaxaca (or shredded brick or Monterey Jack)
Diced cooked chicken (optional)
Diced avocado (optional)
Roasted sliced jalapenos (optional)
Chopped cilantro (optional)
Salt and pepper to taste
Paulette writes: All ingredients in this recipe are intended to be roasted in a comal, a large, flat, traditional cooking utensil from Mexico. I use an old seasoned cast iron fry pan.

Slice the tortillas into 1/8-inch wide strips. Spray lightly with the 1 tbsp vegetable oil and brown in pan until brittle or crunchy. Set aside.

Cut chilies into rough 1-inch squares using kitchen shears. Reduce the heat under the oil to medium-low, let cool a minute, then fry the squares very briefly to toast them. They should smoke a little — even make you cough. Place chilies in enough broth to cover and let them rehydrate.

Roast the tomato, onion, and unpeeled garlic in the pan until blackened, soft, and blistered.

Cool slightly and peel the garlic, collecting all juices.

Puree chilies, garlic, tomato in a kitchen blender in enough broth to get the job done. Let it become smooth, or to your liking, then transfer to a 4-quart soup pan. Add remaining broth or just enough to suit your taste. When you add the condiments and greens, the broth should be soupy. Heat to pre-boil, then let it simmer for 5 to 10 minutes.

If serving all of this soup, add your greens and let them wilt. If serving only a few portions, ladle out what you want into a smaller soup pan and add the appropriate amount of greens for the desired number of portions. Serve immediately with assorted condiments such as cheese, diced chicken, chunks of avocado, jalapenos or cilantro.

Of course, sopa de tortilla doesn't work without a handful of the tortilla strips on top.

Makes about 6 cups, serving 4 to 6.
---
And I offer my own autumnal soup to enjoy and take heart even when loved ones call our names. Before my dad and stepmom passed in recent years, I'd whip up an autumn soup for them. It took about 30 minutes, sometimes more or less. When I had fresh ingredients, I'd spend longer on it, beginning prepping in the early morning. Then I'd carry bags and coolers to Dad's and Marge's house to heat everything up.
Once there I sautéed vegetables, added in spices, poured in broth. I submerged cotija cheese, as we all liked it—melted and hot. Reserving lime juice to add after cooking, I topped the final sopa with chopped cilantro and sliced avocado.
At the table, we ate just-roasted tortilla strips or handfuls of chips straight from a bag, for all of us to toss in at the last minute.
"Delicious," they took turns commenting, with expressions of discovery and delight. "So full of different things. Thank you for making it. What is it called again?"
Now as I remember my time with the elders, those days in the sunlit dining room with loved ones, I sense them just on the other side of the thinnest veil. Or not even that far away.
---
Becca's Quick Tortilla Soup
Ingredients:
1 tbsp vegetable oil
1 small yellow onion, coarsely chopped
2 to 4 garlic cloves, diced fine
1 poblano chili, diced to your liking
1/2 tsp each ground cumin, cayenne pepper, and chili powder
2 cups water or 1 15-oz can of good chicken broth
1 15-oz can of diced, low-salt tomatoes
2 cups cooked black beans or 1 15-oz can of black, pinto, or kidneys
1 small to medium lime, cut in half
1 to 2 cups crumbled or shredded cotija cheese
Diced cooked chicken (optional)
Sliced avocado (optional)
Chopped cilantro (optional)
Handfuls of chips or prepared strips of tortilla
Salt and pepper to taste
Becca writes: In a soup pot, warm oil over medium heat. Add onion and garlic and cook until the onion begins to soften, about 5 minutes.

Add the chile and spices and cook a minute more. Add the diced tomatoes with their juices, beans, and water or broth.

Cover and cook over medium heat, stirring occasionally, for about 10 minutes or until hot. Remove from heat and stir in lime juice and cotija.

Taste and add salt and pepper as needed. Ladle into bowls and top with optional toppings and non-optional tortilla chips. Serve immediately to waiting guests. Enjoy.
(Excerpts from this post were first published June 14, 2013, at spoonwiz.com, edited by Lillian Howan).
---
Find my most recent book, Swimming Grand Canyon and Other Poems (Finishing Line Press, 2021), available through Bookshop.org and many other fine booksellers.