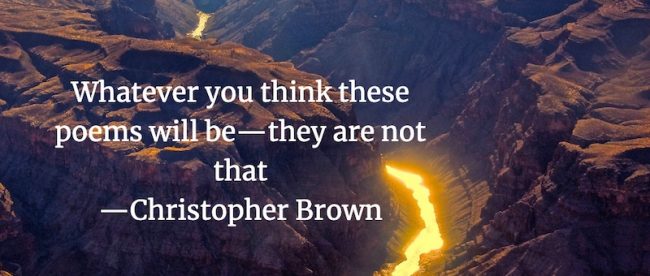 At literary readings from my first book Reading Water: Lessons from the River, people would come up afterward to talk about their river experiences. Most often they wanted to share details of a time they fell from a raft or kayak in rough water. They'd describe spending several moments of their lives beneath the surface. Their eyes and voices reflected the power of the river. At times they'd talk as if their swim had happened only hours before—flying off a boat like jetsam, hitting the icy water. At times they'd remember falling, and being under, not knowing up from down.
I don't advocate being tossed from a raft in whitewater, as I have been plenty of times. But I have respect for the experience. And, despite its title, my new book Swimming Grand Canyon and Other Poems isn't just about swimming. It's about immersion—in rivers, in life, in livelihoods.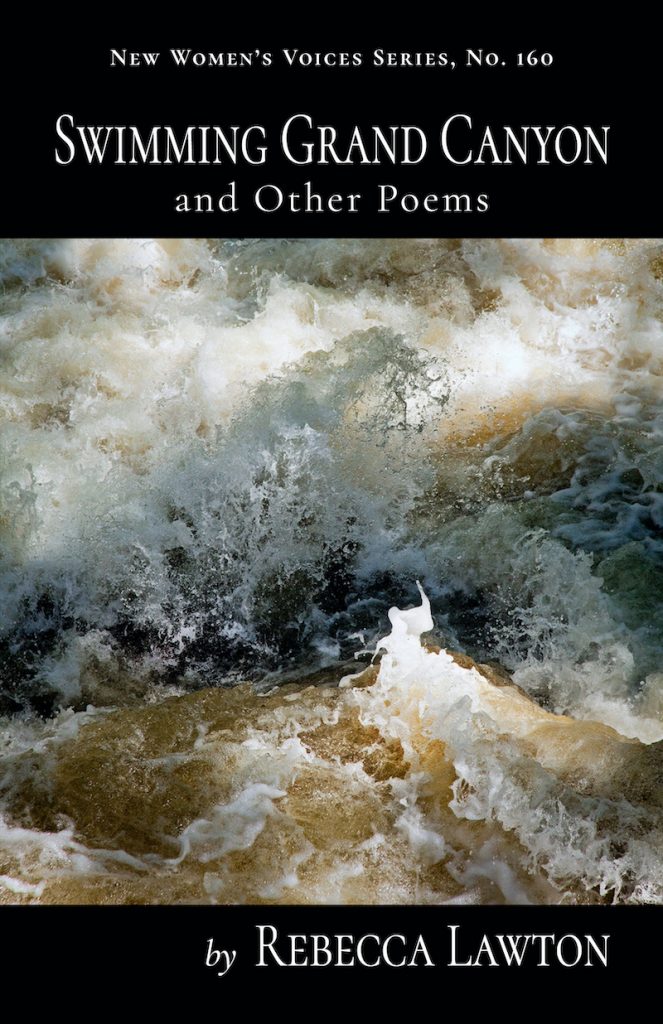 The title poem was first published in the terrific poetry anthology Going Down Grand: Poems from the Canyon (Lithic Press, edited by Peter Anderson and Rick Kempa). "Swimming Grand Canyon" incorporates quotes from river-running pioneer Georgie White Clark. It also describes a few encounters I had with Georgie in the 1970s and 1980s, when I worked as a guide in Grand Canyon. At that time, Georgie was in her sixties and still leading Colorado River trips in her own unique style.
Georgie wore leopard print
swimsuits or cyan sunpants
Long ago the wind
leathered her skin

She squinted above my cap
though the sun was not in her eyes
and claimed she didn't mind
flipping boats on the river
The only Pushcart-Prize-nominated poem in the collection, "On Hearing about Ted" was published in the tiny literary journal the acorn (a project of the El Dorado Writer's Guild). "Ted" shares my first-year guide's awe in meeting the gentle, doomed driver of river shuttles.
I saw him first on the road
to Camp Nine and stared, just eighteen
my friends spoke his name
They said, Ted looks good on the river.
"Seen Near Loma," one of the oldest poems in Swimming, was first published in Standing Wave, a literary journal edited by acclaimed Oregon author Elliott Treichel. "Loma" describes hitch-hiking back to home base in northern Utah after running trips in Grand Canyon. Dropped by my friends Boyce and Sutton near a crossroads, I thought I'd be stuck by the highway for hours. Instead, I was there only minutes.
The first car up the road is a blue Plymouth sedan. It stops, maybe my only chance all day, and I get in. Two ranchers wearing straw Bailey U-Roll-Its drive me past fields of alfalfa and oceans of unfenced grass (green with red purple and yellow wildflowers) over Douglas Pass where aspen and fir grow together and coyotes wail on the ridge
Plenty of the work in Swimming has never been in print before. The most recent poem, "Delicate Arch," describes hiking to the famous arch in the 1970s.
I.
Back then you could walk there
alone or with friends you met
up in town or helped down the river

Signs showed the way and
how to take photos to triumph not fail
"Arch" goes on to talk about my life after the river and my immersion in writing about it. Studying literature with instructors whose knowledge of words was vast was thrilling. At times, though, a professor's lack of time on sandstone and swirling rapids was telling.
I knew he was right
but mentioned the arch
how pictures can fail
but say it was like:

bent rock in synclines
countless deep grabens
arches between them
faults cut so close

You can see underneath them
and sometimes through
"Read Swimming Grand Canyon to be there," writes acclaimed poet and instructor Kim Stafford, author of the much-anticipated Singer Come from Afar, "on the restless river, and deep in the knowing heart."
Or, as photographer, former Grand Canyon guide, and author of Path of Beauty: Photographic Adventures in the Grand Canyon Chris Brown writes, "Swimming Grand Canyon is a most unusual take on the place, contained in quirky poems from Lawton's life on her way downstream . . . Lives loved, loves lost, detours, and roads not taken. Her writing is beautiful and rich. Each poem is carefully crafted, and each line points directly to its target. Metaphors for our lives burst into our consciousness and deepen our own experience. Every poem is an unexpected gem, its own universe. Whatever you think these poems will be—they are not that."
---
Swimming Grand Canyon and Other Poems (Finishing Line Press, 2021), is on presale until tomorrow, July 23. (If you buy it before then, you'll (1) help ensure the publisher will distribute it to independent bookstores and (2) receive an exclusive ebook of "Evacuees," climate fiction based on California's 2017 firestorms. Originally published in Chautauqua Magazine, "Evacuees" will go out to readers on July 24. And find my 2020 Nautilus Book Award Winner, The Oasis This Time: Living and Dying with Water in the West (Torrey House Press, 2019), along with other titles at your local bookseller, Bookshop, Indie Bound, Barnes & Noble, and Amazon.