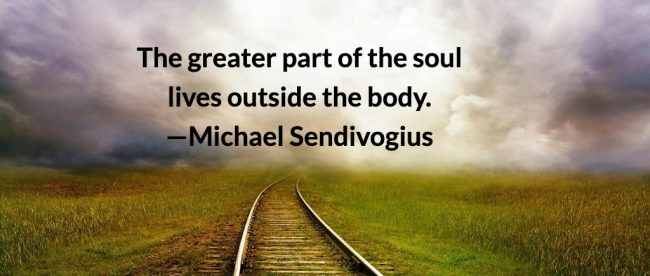 What does it mean, the greater part of the soul lives outside the body? I'd always thought soul was something deep inside each of us, well known to the exquisite physical self — or not.
We keep seeking that indefinable essence. In books, conversation, film, music, art, science. When I was a river guide I carried Barry Lopez's River Notes in my ammo box. I liked to lend it to the passengers or read essays from it aloud on my raft. The book dove into water and rivers in a way I hadn't read before; it aligned with the experience we guides shared as best we could with those who came to explore the deep canyons with us.
In 2015, I told Barry about the importance of that slender book to me the first time we had a conversation of more than a few words. He looked at me carefully for a minute and went back to his work. Later I learned through his wife Debra Gwartney how uncomfortable he was hearing that kind of praise. Maybe the words cast him as a god in a way that put pressure on our friendship.
So over the next two weeks, as we three wrote in adjacent cabins in the central Oregon high desert, I didn't talk about his work again. I just got to know him and Debra in the little time we had together.
When I last saw Barry and Debra, about a year ago, we were at a Literary Arts event in Portland. It was on the eve of pandemic-related shutdowns. We'd all been nominated for Oregon Book Awards, Barry for Horizon, Debra for I Am a Stranger Here Myself, and me for The Oasis This Time, books we'd worked on while in residency together.
We said goodbye for the evening, and I knew I might not see Barry again in this life. I'd known him only a little, but well enough to say goodbye with a kiss on his cheek. He thanked me and looked at me closely again.
At dinner one night when we were writing in the high desert, Barry talked about flocks of migrating birds he'd seen in his years in the Arctic, how rich the sights and sounds, how plentiful the wildlife. He also said much of what he'd witnessed up there mere decades ago can't be seen anymore.
He was one author who helped me learn to give voice to wild nature myself, the way I think of the soul in it, not apart from the human soul at its wildest. As the alchemist Michael Sendivogius wrote in the fifteenth century, and as cited by psychotherapist Francis Weller, "The greater part of the soul lives outside the body." That soul is in nature and the fabric that binds us with it.
Here I refresh this homage to Barry's essay "Drought" in River Notes, where he wrote of reverence for water, especially in times of little rain. "Even as a boy," he knew "a gesture might mean life or death."
---
(Updated from an original posting on January 27, 2014.)
Often we hear of things not to do during times of drought. Why not balance them with things to do? Try doing these actions for a week. See if they make a difference for you, in your place in the ecology of things, in your own climate awareness and action and empowerment. Then see whether you can make them last. Some of these are merely gestures, but as Barry Lopez writes in the essay "Drought" in River Notes (see "H" below), "even as a boy I knew a gesture might mean life or death . . . "
D: Drink and use fresh water with reverence. Give it your deepest respect. If you know where it comes from, or even if you don't, rest assured that much of it is needed by fish and birds and other wildlife at the source. In the dry Hopi nation in the American Southwest, it's said and acted upon that water, when treated as a sacred thing, renders the user holy. It's a liquid version of karma. Mindful use of water connects our soul to our daily experience of life.
R: Read (or re-read) the bible of water consciousness, Cadillac Desert (Marc Reisner). Reacquaint yourself with Reisner's projections about water use, now coming true, and speak them to others when you can.
O: Open your heart to the idea that water conservation measures need to be made across the board, not just by the heaviest users. I've heard people say they won't conserve in their homes or yards until the big irrigators—the 80 percent using the most—put the strictest measures in place. So where does leadership start? Why not with the smallest, most mindful actions?
U: Understand what river or well feeds your pipes. Maybe your beloved place is Lake Tahoe at the Truckee River outlet, or the Tuolumne River below Meral's Pool, or the Merced flowing through Yosemite Valley. The water in those beautiful places is the same water used for drinking water and irrigation somewhere downstream. What starts in the mountains ends up in pipes. If you knew that you could have water-intensive landscaping or a water-fed wild place for your children, but not both, which would you choose?
G: Go to or zoom in on the river that slakes your thirst. In my valley, our water is piped from the Russian River to the north and from the Eel River even farther north. A swim in the Eel or a walk beside its banks is a journey into a sense of what is at stake when we overuse water. When you know where your water comes from, everything changes. You act accordingly.
H: Hear the words of those who have long spoken for water consciousness. Read or reread Barry Lopez, "Drought," in River Notes: "I awoke one night and thought I heard rain—it was the dry needles of fir trees falling on the roof. . . . I fasted and abstained as much as I felt appropriate from water. These were only gestures, of course, but even as a boy I knew a gesture might mean life or death and I believed the universe was similarly triggered."
T: Think of and protect water sources for wildlife in the parks and forests near you. Near my home is a park with a reservoir of drinking water that's clearly marked No Swimmers. And yet hikers and their pets swim in the protected water regularly. Those who treat the water know it; they fight a growing battle with E. coli. We can help by staying out and keeping our pets from water we or others need to drink.
The mindful use of water in times of little rain is really what is needed even in the wetter years. What's called at all times for is consciousness and behavior that knows our place in the natural world. What a different world it would be if we always, always, kept a wild river or mountain lake in our hearts.
---
Find my 2020 Nautilus Book Award Winner, 2019 Oregon Book Award Finalist, and Foreword INDIE Finalist The Oasis This Time: Living and Dying with Water in the West (Torrey House Press, 2019), at your local bookseller, Bookshop, Indie Bound, Barnes & Noble, and Amazon.