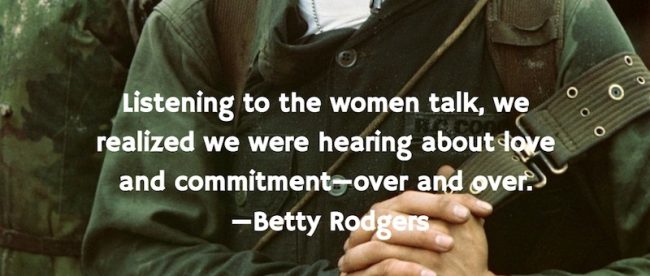 As hidden stories are revealed, they tend to smack us right between the eyes. So the work of writers and filmmakers Betty and Ken Rodgers smacked me last autumn as I watched the virtual world premiere of their latest documentary film, I Married the War.
Their movie's title suggested military weddings, so I didn't know what their story could mean to me. But as an author immersed not only in water writing but also in the creative process and good storytelling, I recognized that the film, and the filmmakers, have a moving story to share with everyone.
Soft-spoken Betty, the daughter, niece, and granddaughter of military veterans, married Ken Rodgers in 1985. He had served in Vietnam and come home decorated after fighting in and surviving the 77-day, bloody siege of Khe Sanh in 1968.
(Link: Read about the 1968 battle of Khe Sanh here.)
Betty says, "The trauma Ken suffered there has affected both of us in ways we never could have anticipated. I felt alone at times, in coming to terms with life with a returned warrior."
She knew that combat veterans suffer substance abuse and survivor's guilt. Many live with hyper-vigilance, moral injury, severe physical wounds, traumatic brain injury (TBI), and other manifestations of post-traumatic stress. What she didn't know was that spouses and families of veterans suffer many of those symptoms, too. When she and Ken attended a 2008 reunion for Khe Sanh survivors, she looked around the reunion banquet hall and saw a story that needed to be told.
"It was the story we spouses were living," Betty says. "I realized that I hadn't just married Ken, I had married the war, the one he fought in, the one he brought home. And I wanted to tell that story."
Other women in the room had been living with devastating symptoms, too, and had kept them locked in their hearts, out of the public eye. But Betty and Ken brought their stories out in I Married the War, the Rodgers' second award-winning, collaborative documentary.
Betty says, "We knew we'd be filming a story of trauma and the strength it takes to live with it. But listening to the women talk, we realized we were hearing about love and commitment—over and over."
The Rodgers are fierce in their mission. "Our work highlights the lifelong impact of sending young people to war," Betty says. "They go into combat when they're still children, so their brains are still developing, making them more vulnerable to trauma. The impacts on their minds and bodies during service, and on our country once they come home, are huge."
To a woman, the eleven spouses featured in I Married the War understand that their husbands had enlisted with best intentions. Many men had come from a long line of combat veterans; some never questioned that they'd go to war. But when their time overseas ended, the warriors came home to find that their battles had not come to a close.
Francine Jones, spouse of another Khe Sanh survivor, says, "If someone had told me when I was twenty-one that 'you're marrying a man who's going off to war, and you're going to live with this for the rest of your life,' I wouldn't have believed them."
Precious Goodson's husband was wounded while serving in Afghanistan. Not all his injuries were visible or even known to her. While caring for him, as his suffering continued, she wondered, "What is going on? I was scared, horrified, angry." In the film, her voice breaks with the strain. "It was just bad."
Former U.S. Army parachute rigger Laura Nickel and her veteran husband were stuck "in an emotional concentration camp" after their service. When she married, she had not considered that she would be setting her own priorities aside to become his long-term caregiver, but that's the reality that she faced.
Betty says, "Fortunately there are many services out there to help the veterans. Though Korean War and Vietnam War veterans were neglected, not all veterans have been. They're certainly not neglected now. The group that has been neglected is the spouses."
The women of I Married the War speak first hand to persevering. Their stories of personal courage are no less moving than those we've seen in other military films: Denton Adkinson's 2012 In Their Own Words: The Tuskegee Airmen, or Ken Burns' 2017 The Vietnam War, or the Rodgers' first award-winning documentary, the 2014 BRAVO! Common Men, Uncommon Valor.
(Link: Watch BRAVO! Common Men, Uncommon Valor.)
When the filmmakers first toured BRAVO! Betty says, "People in small towns all around the country came forward to say it was their story, too. They'd been suffering the aftereffects of war, often without help from others."
Speaking up after long years of isolation isn't easy, and some spouses of veterans declined to be interviewed. Betty and Ken did their best to put their subjects at ease, traveling around the country to speak to them in their own homes.
"The veterans themselves were not present during the interviews," Betty says. "We wanted the spouses to feel as free to speak as possible."
And how did the combat veterans react? Betty remembers one of the husbands who spoke up about it. "He said, 'It's time the women had a voice. They're survivors, too.'"
For his part, Ken is certain he would not have made it to this day without Betty's commitment. "She saved my life," he says. "My life."
---
READ MORE OF MY WORK