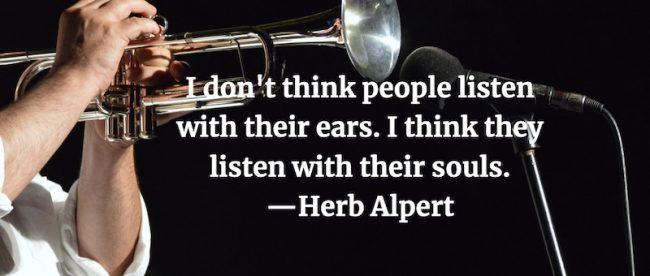 So many ways to love. And so many entities: people and animals and objects.
This being an H2O blog, maybe it's water love. As in Barbarian Days: A Surfer's Life, when William Finnegan writes about "wave-love" for water's beauty and power in its wave-form, he tells us we may love it but it can't love us back. It'd just as soon knock us senseless. And there's human love, our care for living, human packages of water—sixty percent in our bodies and ninety percent in our blood—not only those alive today but those who've gone before. And our kitties, dogs, rivers, oceans, coffee, chai tea. And music, both wild and human.
Trumpeter Herb Alpert, the 2020 documentary Herb Alpert Is . . ., says we don't listen to music with our ears so much as our souls.
All listening takes practice, the great teachers tell us. In How to Love, one of the lovely little books in Thich Nhat Hanh's Mindfulness Essential Series, the recently passed Buddhist teacher, monk, and peace activist writes about finding love in every moment:
Your good intentions are not enough; you have to be artful . . . Mindful living is an art, and each of us has to train to be an artist . . . To know how to love someone, we have to understand them. To understand, we need to listen . . . 
Apparently most things worth doing take practice.
Lately I've been taking advice on practice from mandolin instruction book. Hard to believe that the Deluxe Encyclopedia of Mandolin Chords might give a clue about love, given that it's about showing sixty different chord patterns for every note in the musical scale. But, looking closely, I see the awesome displays of chords and more.
In the end matter, mandolinist John Bird (linked here to a CoMando thread on persevering with tremolo) shares Practice Tips dedicated to improving in the pursuit of art.
Like Get a metronome! which applies more to the study of picking/grinning/making-music than not. And Practice every day. Make practice sacred and holy. "If you are a writer, you write—daily," Bird notes. "If you are religious, you pray—daily. If you want to be a mandolinist (is there any higher goal in life?), there's only one way. Practice every day. Every day. Never miss. And you will be able to play far beyond what you dreamed of."
Herb Alpert agrees: "The most important thing to do as a musician is practice . . . There's no shortcut. You have to really get in there every day and try to inch forward." A painter and sculptor, too, Alpert is still compelled (at age 86) to work at his various art practices daily.
Isolate trouble spots. To do this, you must live with others who can stand it. Practice the hard parts over and over, Bird says. "Then put [a passage] back in the song and do it some more. Start a little before the bad place, then play on past it and start over . . . Over and over and over and over and over."
Back in junior high and high school, I drove my siblings and parents mad with my thirty-minute-minimum French Horn nightly practice sessions. (This was after three hours of everyday playing in orchestra, band, and ensemble classes.) Improving on the harder passages meant repeating a bunch of eighth or sixteenth notes over and over. (Especially in the Mozart concerti.) Now I work the same way on bluegrass tunes on the mandolin. (Again, after three hours of daily writing practice.) But Paul understands the repetition of tricky passages—he plays plenty of difficult ones himself, mostly in jazz standards, for a lot longer than thirty minutes daily.
Is there such a thing as improving by practicing once in a while? Or once a year? Like on Valentine's Day, say? Probably not. Do that, and you'll probably have to begin all over again. 
Sticking with what we love is worth it. Per Thich:
If you have enough understanding and love, then every moment — whether it's spent making breakfast, driving the car, watering the garden, or doing anything else in your day — can be a moment of joy.
No expert here, but I'm willing to say the practice of love starts with listening with our souls. And with our hearts.
---
READ MORE OF MY WORK
Find just-released new editions of award-winning Junction, Utah, and best-selling Reading Water: Lessons from the River. And find my most recent book, Swimming Grand Canyon and Other Poems (Finishing Line Press, 2021), at Bookshop.org and many other fine bookshops.
---
LOVE BOTH EARTH AND WATER (THIS BEING THE H2O BLOG)
Buy carbon offsets for both daily life and travel (my favorite ones start at $6 per month)
Support water-protection groups like Friends of the River
Support climate research and resilience through Project Drawdown
Support other highly rated environmental nonprofit groups
Care for our vulnerable birds (the canaries in our planetary coal mine)