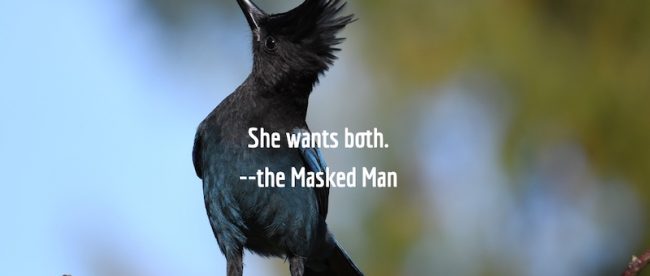 The young man standing six feet behind me offers to buy my drink.
I've wandered up the river to Main Street to mail a letter at our small-town post office. Making an unplanned stop at the local coffee shop, I've asked for a golden latté and ginger scone. The shop's one barista has rung me up; I'm ready to hand her a few bills before she fills my order. In an awful moment, I realize my wallet must be sitting on the kitchen island back home.
Using my phone and Google Pay doesn't work. The barista says it's G Pay's fault, because "it sucks."
"I'll catch that drink another time," I say, stepping aside to let the socially distanced man up to the counter.
He'll have none of it. He wants to pay for the latté. I refuse, especially when the barista reminds me I've also ordered a scone. "Which do you want, the drink or the food?" she asks.
Before I can answer, the man says, "She wants both."
I've moved through the morning as through jello. Every attempt at crisp, purposeful action has been slowed by grief. My 97-year-old father passed just after midnight, and I never got back to sleep. Instead my mind has gone over everything that happened in his last hours, days, and months, things I could've done differently. Things I wanted to do differently but couldn't or didn't because of COVID.
Rivers have always offered solace, so walking the riparian path to mail letters seemed do-able. Nothing else did.
Along the high-desert stream, a thin strip of willow lines the water, yielding to the darker foliage of juniper and ponderosa pine farther back. Autumn had brought migrating songbirds back to the river canyon—birds I'd usually be stopping to count and name.
My father loved bird-watching, a pastime he learned from my mother. After she died decades ago, he carried on with birding in an interested but non-obsessed way. He loved to go with others and carry an old edition of North American Birds in his back pocket. Every once in a while, he'd pull out the book and point to an illustration of what he thought we were seeing.
The last time I birded with him, we were out at Point Reyes National Seashore with my brother Tim and my daughter Rose. This was many years ago, when Rose was very young. My day consisted of going from playing with Beanie Babies and reading picture books with her to standing outside my father's VW van as Tim helped us identify raptors, shorebirds, and warblers.
At one point, a single, southbound hawk passed only a dozen or so feet overhead. "Merlin," Tim called out. My father consulted his bird book, found the drawing of the gorgeous raptor, and showed it to me with a smile.
On the river after his passing, I looked for a signature bird to tell me his spirit was all right. No merlins so far. No quail, either, a species I also associate with him and his California home. Instead the raucous call of a Steller's jay carries across the river from a bird hopping branch to branch in a large juniper.
The camp robber. During my childhood, Dad loved to cook pancakes, waffles, and popovers as his exclusive contributions to family fare. On summer vacation, during the one week of the year we had him 24/7 instead of sharing him with his big job and business contacts, he served one of his breakfast specialties to us four kids outside our rented, lakeside cabin. The Steller's jays—noisy, shameless—wanted to make off with our bisquick-and-maple-syrup treats. We kids found the camp robbers rude but funny, their feather top-knots ruffling, their diversion tactics obvious but entertaining. Those picnic-table moments kept us in stitches. All while Dad served his griddle confections and grinned.
There were thousands such moments during my childhood. Dad made them happen. He and Mom seemed to enjoy bringing us up, whether four kids had been part of their grand life scheme or not.
The love inherent in a delighted childhood is something I can never pay back. I can only pay it forward—to Rose, to friends, to nieces and nephews, to strangers. As the young man behind me did at the coffee shop, never knowing he was coming to the aid of a broken heart. On a morning when I least expected and didn't even know I needed it, he didn't blink above his COVID mask.
"She wants both," he said—the food, the drink, the time to sit with them out on the empty patio before heading back downstream.
---
Find my recent book of essays, 2020 Nautilus Book Award Winner and 2019 Oregon Book Award and Foreword INDIE Finalist The Oasis This Time: Living and Dying with Water in the West (Torrey House Press, 2019), at your local bookseller, Indie Bound, Barnes & Noble, and Amazon.